Corospondent - July 2019
CORONATION GLOBAL HOUSEVIEW STRATEGY
Equity markets continued to rise in the second quarter of 2019 (Q2-19) as central banks communicated a strong likelihood of rate cuts and US-China trade war tensions eased towards the end of the period. The MSCI All Country World Index rose 3.6% in US dollar terms in Q2-19, despite signs of slowing growth across many developed markets. Developed market equities rose 4.0% over the quarter, outperforming emerging markets, which grew by a more subdued 0.6%. The portfolio has benefited from its large exposure to global equities.
The Bloomberg Barclays Global Aggregate Bond Index appreciated by 3.3% in US dollars for the quarter. Global bond yields continued to rally in response to increasing evidence of a slowdown in global growth and rising expectations of interest rate cuts in the US and Europe. US 10-year bond yields have now traded down more than 100 basis points (bps) since November 2018, and the debt of several European sovereigns is trading at negative rates. Although global bonds have performed well, we remain of the view that yields are too low and the risk of capital loss to investors is considerable.
The All Bond Index (ALBI) ended the quarter strongly (+3.7%). The portfolio has a meaningful exposure to local bonds, taking advantage of the high real yields the asset class is offering. A low growth environment is impeding the ability of domestic businesses to grow earnings, increasing the relative attractiveness of bonds to equity. The weak local economy and contained inflation increase the likelihood of domestic interest rate cuts. This is further supported by anticipated US interest rate cuts. While a Moody's downgrade is likely, given muted economic growth and the precarious position of South Africa's large state-owned enterprises, bond yields appear sufficiently generous. Local bond yields already trade in line with subinvestment grade peers and at generous spreads relative to developed markets.
The outlook for local property remains constrained in a very weak economy with negative reversions and lower distribution growth. The portfolio retains selective domestic exposure via A shares (with their unique distribution structure) and high-quality property stocks. These assets should be better able to withstand challenging conditions. UK property stocks have disappointed, as Brexit and tenant failures undermine their prospects. We have retained a small exposure here given the significant discounts at which they trade relative to conser­vative valuations.
The JSE extended its first-quarter gains, albeit at a slower rate. The FTSE/JSE Capped Shareholder Weighted All Share Index appreciated by 2.9% during Q2-19. Resources were up 2.4% despite signs of slowing global growth, but lagged the stronger quarterly performances from the industrial (+4.0%) and financial (+5.4%) sectors. The outperformance of resources over one- and three-year periods remains considerable.
Domestic disputes
Despite the conclusion of the much-awaited South African election, domestic sentiment deteriorated during the quarter. The election result was broadly in line with expectations, with the ANC maintaining its majority rule with a slight decline in support. The appointment of a new, smaller cabinet was a positive development, reinforcing the message of fiscal discipline. However, the ruling party remains plagued by factional tensions, frustrating the ability of the President to deliver on much-needed reform. Policy uncertainty lingers, as reflected in divisive debate on land issues and South African Reserve Bank reform. Eskom's balance sheet problems remain an overhang. The government has signalled its commitment to support Eskom financially, though the underlying state of the utility's generation and transmission assets remains unclear. These factors combined to weigh on consumer and corporate confidence levels, and were reflected in a very weak first-quarter GDP print of -3.2% (released during Q2-19), dragged down by manufacturing and mining in particular. Results released during the quarter and the accompanying subdued rhetoric of management reinforce how challenging the underlying economic situation is. The weak domestic economy contained inflation, and favourable global rate expectations have increased the likelihood of future interest rate cuts.
In this environment, domestic stocks reported weak results, with even defensive stocks struggling to defy the pressures of several years of weak domestic economic conditions and high structural cost inflation. We expect these headwinds to persist and remain cautious on businesses heavily exposed to the local economy. Our exposure to domestic stocks is mostly through banks and defensive counters such as food retailers. The portfolio remains underweight domestically focused local stocks. We continue to debate whether these depressed conditions (and earnings bases) provide an opportunity to add meaningfully to domestic holdings, but have made no material changes to date.
British American Tobacco's share price declined during the period (-15.7%) as fears relating to low nicotine regulation in the US market resurfaced. British American Tobacco has faced a slew of potential regulatory headwinds in its US business, exacerbated by volume declines in traditional tobacco as new-generation products gain traction. We believe the underlying fundamentals of the business remain intact, with strong pricing power, improving cost controls and de-gearing continuing to drive earnings. In addition, we believe new-generation products are lower-risk products and present an opportunity to grow the overall market. British American Tobacco trades on 9.1 times one-year forward earnings and a 7.3% dividend yield. We believe this to be very attractive for a stock of this quality and it remains a large position in the portfolio.
The resources sector (+2.4%) showed mixed performances, with Sasol's underperformance (-22.2%) offset by a strong performance from gold miners (+29.6%) and platinum (+9.5%). Iron ore (+32.9%) has been particularly strong, as supply disruptions have driven up near-term prices, supporting the portfolio's large holding in Anglo American. This position was trimmed during the quarter. The Sasol share price declined meaningfully when the company announced that its Lake Charles Chemicals Project (LCCP) would a) cost more to deliver and b) produce a lower normalised level of profit­ability. Disappointments in the delivery of the LCCP have meant a further reduction in the already muted returns offered by the initial projections, which carried significant risk (a fact Coronation highlighted to the board in a letter sent in 2013). The portfolio has been underweight Sasol, but has added to the position on the back of the price weakness. As the project nears completion, execution risk should reduce, and the group earnings base is anticipated to increase by between 20% and 30%. However, given the heightened risks (operational and financial), we have limited Sasol's overall position size within the portfolio.
We remain meaningfully invested in platinum counters. We reduced our Anglo American Platinum position in response to its strong share price rise, reinvesting the proceeds into names that have underperformed on a relative basis. The demand outlook for platinum group metals (PGM) remains strong, buoyed by increasingly stringent emissions regulations. While we expect electric vehicles to play a role in future mobility solutions, we see a structural deficit in PGM markets over the next decade as supply remains tight after years of under-investment. Despite the upwards move in the price of these metals, PGM producers are not yet earning fair returns on their invested capital. We believe prices need to rise further to incentivise sufficient ounces.
The financial sector (+5.4%) performed strongly for the quarter, as local banks (+9.7%) have defied domestic market headwinds and are expected to deliver underlying earnings growth. This growth reflects prudent management through the cycle, with limited credit extension resulting in low credit loss ratios. The portfolio has holdings in several of the large banks, including FirstRand, Nedbank and Standard Bank.
Brexit disarray
Political turmoil continued to reign in the UK with the resignation of Prime Minister Theresa May during the quarter. The Labour Party's indecisiveness on several key issues reduced the strength of the opposition's position. High levels of uncertainty in the UK undermine the economic outlook. Despite this, compelling valuation-driven opportunities exist. Quilter remains the portfolio's largest single holding in the UK. This is a business with a structural growth opportunity stemming from pension reform in the UK market. The portfolio has built up its position in Bidcorp, a food services company that continues to benefit from consumers' desire for eating out of home and operates across many markets. While we see exciting investment opportunity in the UK market, the portfolio continues to tightly manage overall UK exposure, given the uncertainty.
Markets have remained challenging this year, with several companies reporting material earnings disappointments that have put these businesses at risk. A rigorous research process and heightened balance sheet scrutiny have protected the portfolio from several of these examples. We remain committed to building robust, diversified portfolios with a focus on risk management. We believe these efforts will protect the portfolio against unexpected outcomes and position the portfolio well to deliver inflation-beating returns over the long run.
GLOBAL EMERGING MARKETS
The Coronation Global Emerging Markets Strategy had a good quarter, returning +5.2% compared to the MSCI Emerging Markets Index's return of +0.6%, and in doing so outperformed the market by 4.6%. Year to date the Strategy has generated a return of +29.8%, leaving it 19.2% ahead of the market's return of +10.6%. We note that this is an extremely short time period and, in our view, performance is better assessed over very long time periods. In this regard, since inception 11 years ago, the Strategy has outperformed the market by 4.3% per annum and by 3.0% per annum over both the last 10- and seven-year periods.
During the quarter to end-June 2019, the five largest positive contributors were Wuliangye Yibin (+23.0% return, +0.8% contribution), Adidas (+28.5%, +0.7% contribution), Sberbank (+22.7%, +0.5% contribution), X5 Retail (+42.7%, +0.5% contribution) and LVMH Moët Hennessy Louis Vuitton (LVMH) (+17.2%, +0.4% contribution). There were only two negative detractors of note (greater than 0.5%): YES Bank (-0.9% contri­bution) and British American Tobacco (-0.6% contribution).
We sold totally out of the YES Bank position during the quarter due to a combination of factors, the top being concerns over additional bad debts after the March year-end results were published. This worsened the bank's capital situation and accelerated the need for a capital raise, which would be very dilutive to existing shareholders after the share price decline. The last straw was the forced appointment of a director to the Board by the Reserve Bank of India, which we interpreted in a negative light. In stark contrast to this, we continue to hold the view that British American Tobacco, on less than 10 times earnings and a 7% dividend yield, is very attractive and at the time of writing was a 3.8% position in the Strategy, making it a top 10 holding.
Eastern exposure
There were four new small buys (c. 0.5% positions each) during the quarter: 51job (China), Tata Consultancy Services (TCS) (India), Hero MotoCorp (India) and Bank Central Asia (BCA) (Indonesia), together totalling 2.0% of the Strategy. In terms of sells, in addition to YES Bank we also sold out of Indiabulls Housing Finance due to concerns over the sustainability of its wholesale funding model going forward.
In terms of other activity, we added to the Alibaba and AIA positions on share price declines and reduced the Brazilian education exposure (Kroton and Estácio). We continue to like both Kroton and Estácio (1.7% positions each at end-June, so 3.4% total Brazil education exposure), with both trading on 10 to 12 times earnings, but elevated competitive intensity in the industry, together with increasing student loan books and an ongoing weak economic environment, led us to conclude that smaller positions were more appropriate from a risk-adjusted expected return point of view. Both shares have done well this year, with Kroton having appreciated by 40% year to date in US dollars and Estácio by 35% at the time of writing. We also reduced the Cognizant position on concerns over excessive cost cutting, with the bulk of this going into TCS.
In terms of country exposure, the largest upward change was an increase in China from 29.0% at end-March to 32.6% at end-June, largely as a result of the new 51job purchase and the additional Alibaba buying. In contrast, exposure to India declined from 12.6% at end-March to 9.6% at end-June due to the sales of YES Bank and Indiabulls, and our Brazilian exposure reduced from 9.6% to 8.5% due to the trimming of the Brazilian education stocks.
All four new buys were small positions, which simply reflect the risk-adjusted expected return of each of these – in summary, all four are reasonably attractive, as opposed to very attractive. We have, however, continued to add to two of the positions post quarter-end as their respective share prices declined, and at the right price will also add to the other two positions.
Outsourcing is the business
The first new buy was 51job, which the Strategy has owned in the past. 51job is China's leading online recruitment operator in the white-collar space. This provides two thirds of its revenue, with the balance coming from human resource (HR) services such as business process outsourcing (BPO) when clients outsource HR functions such as payroll management to the company. 51job was founded 21 years ago and management owns 25% of the business. In the 15 years since the company listed on the Nasdaq, profits have grown by 21% per annum. In our view, there is still a large opportunity in both areas of this business: 51job has 500 000 corporate users of its online recruitment services and 10 000 corporate users of its BPO services – out of a market size of 85 million registered businesses in China and growing. In addition to this, the company is very free cash flow generative (having converted 128% of accounting net profit into free cash flow over the past 10 years) and has a rock-solid balance sheet, with net cash of over $1 billion (or 25% of its market capitalisation). 51job today trades on c. 20 times forward earnings (15 times ex the net cash position), which in our view is attractive for a company of this quality and with this market opportunity.
TCS was the second new buy (0.65% position) and is also one that the Strategy has owned before. TCS is arguably the gold standard of the Indian IT services and outsourcing companies. These firms (TCS, Infosys, Wipro, HCL, Cognizant, etc.) all generate 80%+ of their revenue from the US and Europe, but all have c. 60% to 70% of their employee base in India, a source of abundant engineering skills.
In our view, TCS is a high-quality business, with returns on equity of 35%, stable earnings growth, earnings before interest and taxes margins consistently in the mid-20s, and a high level of conversion of accounting earnings into free cash (90%+). We have held four meetings with the company over the past several months and these interactions were a clear reminder of these intrinsic qualities. At the same time, we became somewhat less enthusiastic about Cognizant due to clear signs that cost cutting (arguably driven by an activist investor) had gone too far. As a result, we reduced the Cognizant position (from c. 2% of the Strategy to 1%) and bought an initial position in TCS.
The third new buy was a 0.5% position in BCA, the leading privately owned bank in Indonesia, in a market where the big competitors are mainly State owned. The Indonesian financial services market is one of the lowest penetrated markets in emerging markets, and BCA is clearly the highest quality bank in the country. Over the past 10 years, BCA has grown loans by 17% per annum, earnings per share by 16% per annum and net asset value by 21% per annum. The bank is conservatively managed and has significant excess capital, with a Common Equity Tier 1 ratio of 23%. It has the highest current and savings account ratio (c. 78%) in the market, which in turn gives it a lower cost of funding versus competitors. It also has among the highest provision ratios (c. 180%) and the best bad debt experience historically out of the major banks. Again here, a number of meetings over the past year or so led us to want to own this asset. Neither TCS nor BCA look particularly cheap on short-term valuation metrics (c. low 20s forward price earnings) but both are very high-quality assets in our view, which should be able to compound earnings in the double digits for several years ahead.
Road hog
The last new purchase was that of Hero MotoCorp (0.4% position). The company is lower down the quality spectrum than TCS or BCA, for example, but has a number of qualities that we like, and after a 35% decline since its peak price in mid-2017, it trades on c. 15 times forward earnings, with a 4% dividend yield and a strong balance sheet (net cash position). Hero is the largest manufacturer of two-wheeler (motorbike) vehicles in India, a market which has historically grown at a high rate and is still underpenetrated, but which is going through a tough period currently after industry volumes were hit by the tightening of requirements to purchase third-party insurance along with the bike purchase.
Hero is the clear market leader in the entry-level market (75cc to 110cc, where they have c. 50% market share) and in the 'executive' market (110cc to 125cc, where they have close to 70% market share). Overall, of the 20 million motorbikes sold in India annually, 7.5 million are sold by Hero. Besides being dominant in the entry-level market, Hero has recently put more effort into making inroads into the scooter and premium markets, and the export market also holds large potential. It is unclear yet as to the level of success the company will have in these areas, and we will continue to evaluate this over time, but in our view, the entry-level and executive markets alone will provide many years of growth.
Members of the Global Emerging Markets team continue to travel extensively to enhance our understanding of the businesses we own in the Strategy, their competitors and the countries in which they operate, as well as to find potential new ideas. In the second quarter, there were trips to India, Thailand, Hong Kong and Singapore. The coming months will see trips to China and Russia. The Strategy's weighted-average upside to fair value at the end of June was c. 35%, which we feel is compelling. We would also consider the overall quality of the stocks held in the Strategy currently to be above average compared to other points in the Strategy's history.
FRONTIER MARKETS
Global Frontier Markets
The past three months have been tough for the Strategy. It delivered a gross return of -5.7% over Q2-19, while the MSCI Frontier Markets Index was up 4.7%. Since inception, the Strategy return is 2.3% per annum, which compares to 0.8% per annum for the Index.
Argentina was up 27.1% over Q2-19 as the market rallied strongly in June following a very weak start to the year. Romania (+12.0%), Croatia (+6.6%) and Morocco (+4.4%) also did well. Pakistan (-23.6%), Kenya (-6.6%), Vietnam (-3.6%) and Nigeria (-3.2%) all declined.
The Strategy's relative performance is a function of three main drivers: a write-down to our Zimbabwean holdings; large-cap Kuwaiti stocks benefiting from an upcoming index upgrade, and share price moves in some of our large holdings that do not appear justified by fundamentals (or phrased differently, the normal short-term volatility in the market).
Zimbabwe formally introduced a local currency in February 2019 and announced the end of the multicurrency regime in June 2019. At this point, the Zimbabwean dollar became the only form of legal tender in the country. During the quarter, the stock market rose by 66% in Zimbabwean dollars, but this was not nearly enough to offset the currency move. The official exchange rate moved from ZW$3/US$1 to a rate of almost ZW$7/US$1 at the end of June, although there is limited information on liquidity at this rate. Please refer to the Africa Frontier Markets notes overleaf for more detailed commentary on Zimbabwe.
Upward mobility
During the quarter, two significant events impacted the MSCI Frontier Markets Index. Argentina, the largest constituent of this Index, was upgraded to the Emerging Markets Index in May. MSCI also announced that Kuwait (the largest constituent following Argentina's departure) would likely be upgraded to the Emerging Markets Index subject to some minor market access changes. The Kuwait Premium Index, which comprises those stocks likely to be included in the upgraded Index, is up 9.0% over the period. We have seen this before in the United Arab Emirates, Qatar and Pakistan, where markets perform very strongly on the rumour of inclusion. We estimate that the move in these Kuwaiti stocks resulted in a -2% attribution during Q2-19.
We have commented before that as benchmark-agnostic investors we do not buy or sell companies based on whether they are included in an index. These announcements have no impact on the underlying fundamentals of businesses. They are an example of the inefficiencies that exist in financial markets, as index trackers become forced sellers or buyers based on these changes. Frontier markets in particular are susceptible to this and present opportunities for bottom-up valuation-driven investors willing to take a long-term view. In the short term, this can and does result in periods of large divergence between the Index and the Strategy's performance.
BYMA (Argentine stock exchange, +52bps), TGS (Argentine gas distributor, 40bps) and Centamin (Egyptian gold miner, +35bps) where the largest contributors over the quarter, while Delta Corporation (Zimbabwean brewer, -196bps), Eastern Tobacco (Egyptian tobacco, -80bps) and Kohinoor Textiles (Pakistani investment company with cement and textile assets, -73bps) were the largest detractors.
The Strategy's largest buys over Q2-19 were Nigerian Breweries and Dragon Capital's Vietnam Enterprise Investments Limited (VEIL) fund. Over the past few years, Nigerian Breweries has faced numerous challenges, which we discuss in more detail in the Africa Frontier Markets note below. Dragon Capital's VEIL fund invests in Vietnam. It holds many companies that we view as attractive investment opportunities but for which foreign ownership limits prohibit direct purchase at quoted prices. Buying VEIL allows us to access these opportunities without paying the large premiums required to attract foreign sellers.
Grameenphone and Global Mediacom were the largest sells during Q2-19. We sold out of Grameenphone, as the margin of safety no longer sufficiently justified a position in the Strategy following the announcement of a huge tax claim by the government of Bangladesh. While Grameenphone is contesting this claim, the share price at the time of our sale did not adequately reflect the risks involved. Global Mediacom was switched into one of its subsidiary companies, Media Nusantara. This was due to relative valuation and sees the Strategy hold a higher quality, pure-play asset in the Indonesian media space.
We are mindful that this has been a particularly tough quarter for the Strategy, but we continue to be excited by its holdings. Many of the positions trade at multiyear low valuations, despite underlying fundamentals remaining healthy. For the patient investor, returns should be compelling.
AFRICA FRONTIER MARKETS
After a very strong start to the year, the performance of markets across Africa was mixed over the last three months to end-June 2019 (Q2-19). The FTSE/JSE All Africa ex-South Africa 30 Index (JA30) ended the quarter with a return of +1.5%, largely driven by a 4.4% gain in Morocco. Kenya (-6.6%), Nigeria (-3.2%) and Egypt (-0.7%) all declined during Q2-19.
While the moves in these markets were significant, they were nothing compared to the volatility we saw in Zimbabwe following the formal introduction of a local currency in February 2019. This was followed by an announcement that ended the multicurrency regime last month, and the Zimbabwean dollar is now the only form of legal tender in the country. During the quarter, the stock market rose 66% in Zimbabwean dollars, but this was not nearly enough to offset the currency move. The official exchange rate moved from ZW$3/US$1 to a rate of almost ZW$7/US$1 at the end of June. There is limited information on liquidity at the official rate, and as foreign investors, this is still not a window through which we can freely access US dollars.
We have seen a similar move in the rate implied by the Old Mutual dual-pricing mechanism, where the 'exchange rate' moved from about ZW$5/US$1 in March to a rate of over ZW$9/US$1 at the end of June. It has been clear for a while now that a dollar in Zimbabwe is not equal to a US dollar. For this reason, we changed our valuation approach for Zimbabwean assets in 2017 and decided to value these assets at our internal fair values. These fair values were well below the quoted share prices and were also below the values implied by the Old Mutual discount.
However, the volatility during Q2-19 meant that the share prices, adjusted for the Old Mutual rate, moved below our internal fair values. Given all the developments over the past few months, we had to re-evaluate the valuations for in-country Zimbabwean assets. We decided to value each security at the price implied by the Old Mutual 'exchange rate', and on top of this we apply a discount to reflect the market movement cost to liquidate the position. To reduce the volatility, we use one-month averages rather than spot prices. This valuation approach reflects an appropriate realisable value for the full Zimbabwe exposure. In our view, this approach is symmetrical for investors purchasing and redeeming, and does not disad­vantage a long-term investor in the Strategy.
In from the cold
This change resulted in a large write-down of our assets in Zimbabwe. This write-down alone reduced the value of the Strategy by approximately 13% and was the main reason why the Strategy declined by 13.9% over Q2-19. Despite this significant write-down, we are satisfied with the Strategy's long-term performance. Over a three-year period, it delivered a return of 6.4% per annum, compared to the Index return of 7.0% per annum. Since inception more than a decade ago, the Strategy returned 7.7% per annum, compared to the Index which returned -1.1% per annum over the same period.
While the liquidity situation continues to deteriorate, we have seen some positive news out of Zimbabwe. In June, the IMF agreed to a Staff-Monitored Programme, with commitments from the Zimbabwean government to address the wage bill, subsidies and the printing of money. If successful, this could lead to financial assistance and re-engagement with the inter­national community. In addition, the government's willingness to allow the official exchange rate to move closer to the parallel market rate over the last few weeks, is also something we view as encouraging.
Quality is quality
We did an exercise in mid-June where we compared the three-year total return (in US dollars) of Safaricom in Kenya to that of Econet in Zimbabwe. The results are quite surprising, as shown in the table below.
Safaricom is a highly rated business. It performed very well, both operationally and in terms of share price performance. On the other hand, Econet has been operating in a very tough environment and the currency devalued meaningfully (it was at parity to the US dollar three years ago). However, the table below shows that Econet performed better than Safaricom over this period, when using the official exchange rate as well as when using the Old Mutual implied rate to convert the share price into US dollars. For investors who followed their rights in the 2017 rights issue, the return would have been even higher.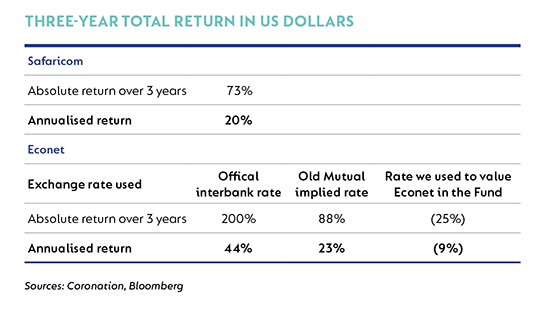 We believe that the Zimbabwean assets in the Strategy offer significant value. Companies such as Delta Corporation and Econet Wireless are well-run businesses, with market-leading positions. They have operated during tough times before and emerged as stronger businesses. Despite the macroenvironment, these businesses continue to perform well. For example, Econet's mobile money business has close to 100% market share in a country where virtually all payments now happen electronically, and it has seen a dramatic increase in profitability.
Another example is Zimplats, a low-cost platinum mine in Zimbabwe. Zimplats generates real US dollar revenues, which puts this business in a very strong position in a country with a shortage of hard currency. In fact, Zimplats has been the largest contributor to performance so far during 2019, benefiting from the rise in PGM prices over the past year.
Too early for beer?
We increased our exposure to Nigerian Breweries, which has faced numerous challenges over the past few years: downtrading due to the economic environment, a period of limited access to foreign exchange, an excise hike in 2018 and aggressive competition in the market, which intensified when Anheuser-Busch InBev (which is lossmaking in Nigeria) opened a new brewery last year. All this means that brewers have not been able to increase prices; in fact, in real terms, the price of beer in Nigeria has declined drastically over the past five years and is now much lower than in many other countries in Africa. As a result, the profitability of Nigerian Breweries declined considerably and its market capitalisation fell 84% in US dollars over the past five years, down from over $8 billion to only $1.3 billion currently.
We cannot say when conditions will improve, but the tough macroeconomic environment will not last forever and at some point, the competitive pressures will ease. Long term, we believe that both Heineken and Anheuser-Busch InBev are rational operators who want to generate an appropriate return on their investments. For this to happen, beer prices will have to increase.
While we risk being early, we believe that the attractive valuations as a result of the current headwinds present a fantastic opportunity for investors who are willing to look through the near-term challenges, as the Nigerian beer market remains incredibly attractive long term, with a large, fast-growing population and beer consumption still low relative to other markets.
To conclude
The Strategy's performance over Q2-19 has been disap­pointing, but we believe the write-down of the Zimbabwean exposure was prudent and protects our investors. We have a long-term, valuation-driven investment philosophy and we do not base our investment decisions on a company's size in an index. As a result, we know there will be periods of under­performance while we wait for the investment thesis to play out in each of the companies we own. If we look at the current valuations of the companies we own, we are extremely excited about the Strategy's return prospects over the long term.