Corospondent - October 2018
Spring Edition
FACTFILE: Coronation Flexible Fixed Income Strategy - October 2018
Back to contents
INCEPTION DATE
1 July 2010
PORTFOLIO MANAGERS
Nishan Maharaj, Mark le Roux, Adrian van Pallander and Seamus Vasey. Led by head of Fixed Interest, Nishan Maharaj, the strategy is managed by four seasoned fixed-interest professionals whose collective investment experience exceeds 70 years.
OVERVIEW
The strategy can invest in a wide variety of assets such as traditional fixed-interest assets as well as hybrid instruments such as preference shares and inflation-linked bonds, which are typically excluded in most specialist mandates. Its mandate also includes a potential allocation to listed property, subject to a maximum of 15%. This flexibility allows the strategy to maximise every opportunity within the domestic fixed-interest universe to produce superior returns for clients. It aims to outperform the better of cash or bonds over rolling three-year periods.
A COMPELLING TRACK RECORD
The strategy has delivered an annualised return of 9.9% (gross of fees) since its inception more than eight years ago. Its return remains comfortably ahead of both cash and bonds over all meaningful periods, as illustrated in the table below.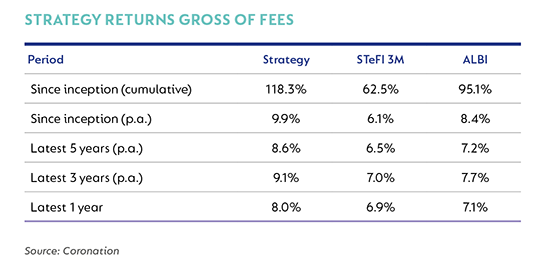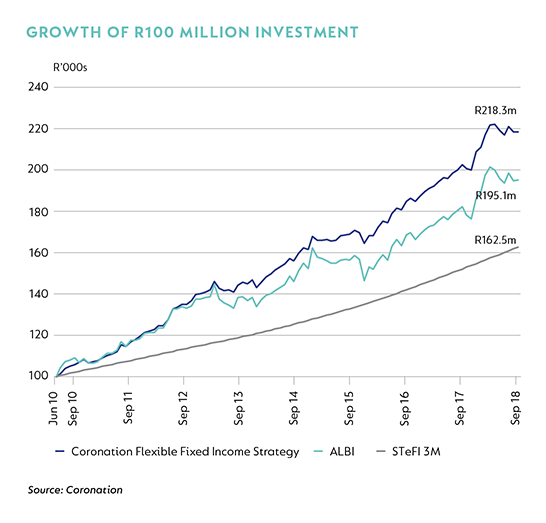 STRATEGY
Flexible Fixed Income is an actively managed fixed-interest solution with a flexible mandate and no duration or term restrictions. The fixed-interest manager is best placed to make the asset allocation call between cash, short- and long-term bonds, inflation linkers and other income-bearing assets. The flexibility to manage duration around a wide band can provide a much-needed layer of protection. Specialist benchmark managers are unable to allocate meaningful exposure to preference shares, convertible bonds, inflation linkers or any non-benchmark holdings, even if they are relatively attractive on a risk-adjusted basis. Investors can benefit enormously from managers being more opportunistic.
The portfolio is positioned according to Coronation's long-term strategic market view, but this is balanced by taking advantage of shorter-term tactical opportunities when the market lags or runs ahead of that strategic view.
Our proprietary fundamental economic and fixed-interest research forms the backbone of the investment process. Returns are maximised by actively combining a top-down approach (deriving the macroeconomic view which drives the bond investment cycle) and a bottom-up approach (generating a fair value for bond yields) in portfolio construction.
ASSET SELECTION
Projected total returns for each instrument in the strategy's universe are calculated based on Coronation's view of the overall future direction of interest rates, the shape of the yield curve going forward and expected changes in credit spreads for particular bonds over the course of the following 12 months.
These factors are balanced against their liquidity and credit-risk constraints; for example, due to its higher tradability and low-risk nature, a government bond will carry a higher inclusion limit than a non-government bond.
Coronation maintains a very conservative approach to credit risk. Credit selection is primarily focused on mitigating downside risk. We combine detailed analysis with rigorous pricing techniques, drawing from the knowledge and experience of our broader investment team during this process. Our aim is to ensure that the credit spread adequately compensates us for the underlying risk of the entity.
Detailed proprietary research is conducted on issuers and structures to determine their full spectrum of risks and to determine a fair value for the assets, both at issue date and during the life of the instrument.
Our property investment strategy includes fundamental analysis of individual counters. We invest where we believe the risk-adjusted total return, as a result of our fair value yield and distribution growth (together with a healthy margin of safety), is superior to that of the other investable asset classes.
Coronation incorporates environmental, social and governance factors when evaluating investments. For debt securities, we assess the impact on issuer cash flows and the ability to repay debt, and require additional credit spread to compensate for higher risk. Governance factors such as corruption and political risk can also affect sovereign issuers' willingness to repay their debt. We will allow for this in the price at which we are prepared to invest in a security.
CURRENT POSITIONING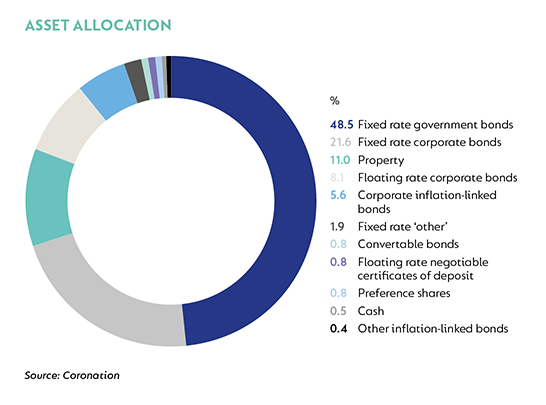 Recent economic releases have suggested that the local economy is taking much longer than initially anticipated to move onto a sustainable growth path. South Africa's longer-term growth prospects are being dimmed by shorter-term uncertainty over key policies. Policy pronouncements more recently have signalled policymakers' intention for a more market-friendly outcome, which should put growth back on an upward trajectory. Local inflation should remain within the target band, even after the recent sell-off in the local currency and rally in the oil price. Against this backdrop, local government bonds (which provide an attractive return relative to cash), compare favourably relative to their emerging market peer group, and offer a decent margin of safety against a shorter term deterioration in fundamentals. At current levels, the yields on offer in the local bond market are attractive relative to their underlying fundamentals and warrant a decent allocation within the strategy.
Within listed property, the strategy favours counters that offer strong distribution and income growth, with upside to their net asset value. Despite the asset class's underperformance over the last few quarters, from a valuation perspective, listed property remains very attractive. In the event of a moderation in valuations (which may be triggered by further risk asset or bond market weakness), we will look to increase the strategy's exposure to this sector at more attractive levels. If one excludes the offshore exposure, the property sector's yield rises to approximately 10.3%, which compares very favourably to the benchmark bond.
The strategy maintains select exposure to certain high-quality corporate preference shares, but will not actively look to increase its holdings. Despite attractive valuations, this asset class will continue to dissipate given the lack of new issuance and because it is at risk of being classified as eligible loss-absorbing capital (only senior to equity).
We remain vigilant about risks emanating from the dislocations between stretched valuations and the underlying fundamentals of the local economy. However, we believe the strategy's positioning maximises the available opportunities within the current local fixed-interest universe.