Corospondent - October 2019
Spring Edition
It's about how, not when
The quick take:
Global markets offer a broader opportunity set than the SA equity index
Multi-asset class funds offer you the benefit of professional, risk-adjusted allocation
If you live and work in SA, you are exposed to a high degree of country-specific risk
---
HIGH ON THE agenda of many dinner conversa­tions these days is the topic of investing offshore. With persisting uncertainty around our country's economic future, we understand that many South Africans may feel unsettled about their own finan­cial futures. At Coronation, we believe that, no matter the current market sentiment, it's always a good time to consider the long-term benefits of owning a balanced portfolio of both interna­tional and domestic assets. It's not a question of when to invest offshore, but rather how.
From a young age we are taught not to put all our eggs in one basket. This truism stems from the value of diversification, which is the key benefit of having at least some of your assets offshore. International assets make your portfolio better by diversifying economic-, jurisdictional-, currency-, industry-, and company-specific risks, without nec­essarily reducing expected long-term returns. The more than 5 000 investable shares in the global universe allow access to growth opportunities, industries and geographies not available in the local equity market, which consists of only 160 investable shares.
NO ASSET CLASS WINS ALL THE TIME
While much of the current emphasis is on how global markets performed better than the local market over the past decade, as shown in Table 1, this has not always been the case. Over the past 20 years, the local market materially outperformed global equity markets, as the outcomes through most of the 2000s were very different to their more recent performances. Another point to ponder is how US equity market returns dominated over the past decade. There is no guarantee that this outcome will be repeated over the next decade, especially considering the high valuations base in the US.
If you are interested in unpacking the relative per­formance of local and global markets further, you can read the brief summary of key market events over the past two decades. It is worth­while to highlight that eventual return outcomes are sometimes surprisingly different to the con­sensus view informed by the events of the day. For example, the rand weakened materially in 2000 as a result of a global risk-off episode that impacted all emerging markets, despite South Africa achieving its first investment-grade rating. Then, in 2001, the local share index managed to outperform the global index despite a 37% fall in the value of the rand.
Another way to look at this is to consider the correlation between relative equity market per­formance and the dollar/rand exchange rate. The rand depreciated against the dollar in 12 of the last 20 years, but global equity markets out­performed the local equity market in only eight of the 20 years, as shown in Table 2. One of the reasons for this discrepancy is that most of the underlying business activities of the companies that happen to be listed on the JSE take place outside of South Africa.
HOW TO GAIN OFFSHORE EXPOSURE
If you are invested in one of our multi-asset class funds, you already have a considerable international allocation. This allocation consists of direct off­shore exposure and the portion of the value we place on local shares that derives from economic activity outside of South Africa. Figure 1 shows the effective rand-hedge exposure across our multi-as­set class funds over time. For our Balanced Plus and Market Plus funds, with long-term growth objec­tives, this is typically more than 50% of the port­folio. For the more conservative Capital Plus and Balanced Defensive funds, which have near-term capital preservation targets in rands, the range is somewhat lower. Each of these funds provide the easiest way to gain hassle-free international expo­sure, as you mandate us to manage the scope of international allocation on your behalf.
In addition, it's easy to top up your investment or to draw an income from these funds, as they are accessible with low minimum investment require­ments, and can be used in tax-efficient invest­ment vehicles such as retirement annuities and tax-free investments.
If you want more international exposure, you can also invest in rand-denominated international funds. You may want to do this with your discre­tionary (non-retirement) savings in order to further diversify your risk. The reality is that by living, working and owning a home in South Africa, you already have significant country-specific risk, arguing for an additional international allocation.
These funds, such as the Coronation Global Managed and Coronation Optimum Growth funds, allocate all or most assets to interna­tional investments, while remaining easy to use and access, as the funds are established in South Africa. However, while they provide full economic diversification, they still operate under the laws of South Africa and therefore do not diversify juris­dictional risk.
One example of jurisdictional risk is that South Africa still enforces exchange controls, which limit the amount that asset managers can invest outside of South Africa on behalf of clients1.
While highly unlikely, these limits may be reduced in future, which may lead to an enforced and unwanted reduction in offshore exposure. If you have a substantial amount to invest offshore, you can externalise your rands and invest in a fund incorporated in another country, most often in the EU. In this case, the laws of the country of incorpo­ration govern your investment.
Coronation offers a range of funds incorporated in Ireland with the same economic exposure as our rand-denominated international funds, but with the added benefit of jurisdictional diversifi­cation. The downside of investing via this route is more complex administrative requirements due to cross-border banking, and you may have to apply for South African Revenue Service clearance if you want to invest more than the annual R1 million general offshore allowance. These funds have a minimum investment amount of $15 000.
REASON MUST BE YOUR GUIDE
So, the message is to cut through media hype of doom and gloom, and to keep your eye on your goals when allocating to international assets. It is also useful to avoid the myopia of the moment and take some time to consider the bigger picture. When you unpack historical market returns, it becomes evident that invest­ing is about well-considered diversification across asset classes and geographies rather than extreme, sentiment-driven moves between local and global assets.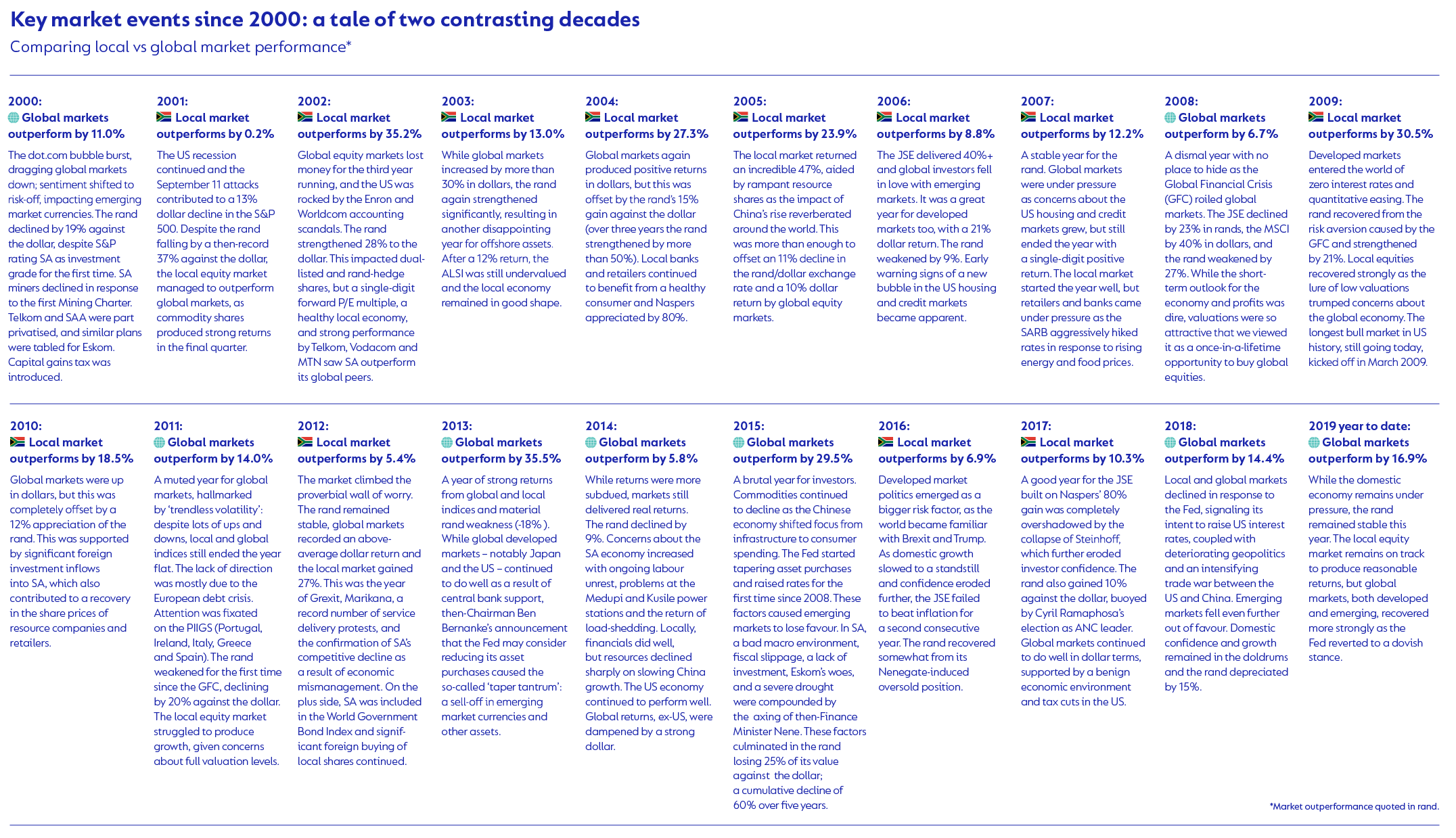 For more on investing offshore with Coronation, click here
---
1. The current limits are 30% globally and 10% in the rest of Africa for retire­ment fund investors, and 40% globally and 10% in the rest of Africa for discretionary investors.