Investing Offshore - August 2020
August 2020 - Corolab Investment Guide
For long-term investors, we consistently highlight the benefits of having appropriate levels of international exposure through the cycle. While it may be tempting to increase or decrease your international exposure for temporary reasons (such as current sentiment, specific currency expectations or recent returns), having exposure to foreign asset classes is not about the timing. Instead, it is an allocation that should be made with strategic reasons in mind. In this issue, we unpack why investors should be investing offshore, explain how we have been investing clients' money offshore for more than two decades and detail which of our funds are most suited to investors' specific offshore needs
Let your decision be driven by strategic reasons, not sentiment
While it is easy to succumb to the sentiment of the day, allowing it to determine your reasons for investing offshore is a weak philosophy – and there is no better example than South African investors' reaction to short-term currency moves. The performance of the rand has a long history of significantly impacting how investors perceive international investments. Interest in global assets is typically low when the rand is strong but increases as the rand weakens. This may be a problem if investors inadvertently replace cheap assets with expensive assets purely based on current sentiment. It is thus important for investors to approach their level of offshore exposure with strategic, not temporary, reasons in mind.
I
t's about optimising your portfolio
By allocating money internationally, you reduce the level of risk associated with achieving a specific rate of expected return, as demonstrated in the riskreturn frontier in Figure 1.
FIGURE 1
The classic recommendation for retirement savers is to have a minimum international allocation of 20% to 30% through the cycle. These long-term investors require an annualised return of inflation plus 4% to 5% in rand terms with which they need to buy a basket of local goods and services. Figure 1 shows that these investors, at 0% international exposure, get compensated with 1.01 units of return. Whereas by having international exposure of 30%, they receive compensation of 1.27 units of return (at less risk). Investors who can justify a larger international allocation (more than 30%) include those who:
spend regularly in foreign currency;
need to consider offshore bequests because multiple generations live on different continents; and/or
do not need to draw a domestic income from their savings.
It's about accessing opportunities outside of our local investment universe
South African investors who restrict their universe to domestic assets not only miss out on opportunities in industries that are hardly present in the local market (e.g. information technology, biotechnology, electronics, pharmaceuticals) but also on a much wider opportunity set within those industries (see below). By opening up your investment universe, you gain access to a more diverse opportunity set, as well as to better businesses with better earnings prospects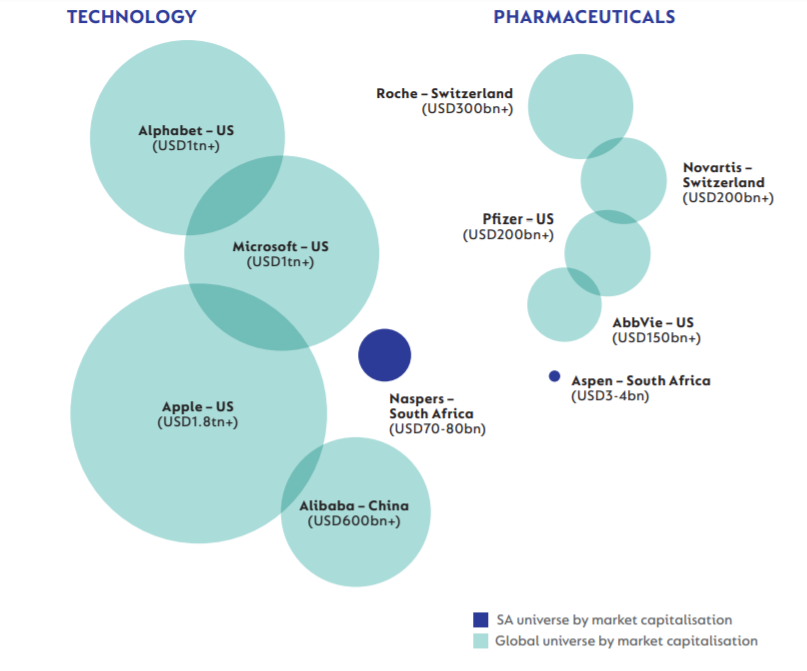 Furthermore, by diversifying your investment portfolio to include international assets, you gain access to growth regions that benefit from mega-drivers, such as innovation, industrialisation, urbanisation, digital advances and growing consumerism. From Figure 2, it is clear that economies' ability to innovate (a critical driver of growth and prosperity) resides predominantly outside of our own borders. By adding global diversification, you are able to enhance your outcomes.
FIGURE 2
Your future shopping basket plays a key role
Many items in a South African consumer's shopping basket (from fuel to food to healthcare) are largely priced in foreign currencies as the inputs are either commodities (with prices struck in global markets), or heavily reliant on imported content. Having adequate international exposure acts as a hedge against the long-term change in price of this part of your future shopping basket. Episodes of currency weakness will more than likely remain a strong driver of price increases into the future. Having more than the minimum offshore exposure may also be warranted for those planning for future liabilities in hard currency. This would include expenses such as overseas travel (for leisure purposes or visiting family members living abroad) or business opportunities, investing for a next generation's education, or emigration.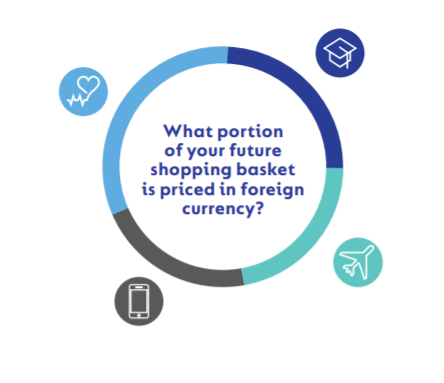 You need to think about protecting your portfolio against financial repression and deteriorating domestic fundamentals
One of the key risks associated with the unprecedented monetary and fiscal response to the Covid crisis is how the world deals with mounting debt. With the likelihood of financial repression (in the form of lower interest rates and higher prices), investors should carefully consider the role of global equities in constructing a robust investment portfolio. You can read more about this topic, in our Special Edition Corolab.