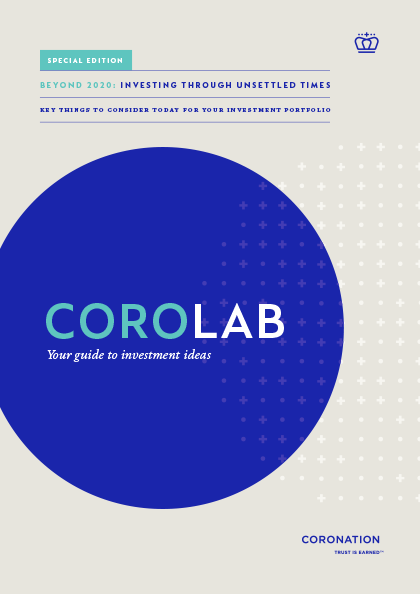 Special Edition: Investing through unsettled times - July 2020
July 2020: Corolab Investment Guide. Key things to consider today for your investment portfolio
Don't underestimate the value of active asset allocation during times of crisis - July 2020
Back to contents
QUICK TAKE
As the crisis unfolds, we have been and still expect to make significant asset allocation changes across our multi-asset funds in the months and quarters ahead.
Critically, asset allocation is about the pricing of assets, not market timing. And it is ideally left to the skilled professional who focuses on making disciplined asset allocation decisions every day.
---
ASSET ALLOCATION IS the most important decision you make when investing. While significant value can be added by focusing on the selection of individual securities, it is critical to have appropriate exposure levels to specific risk drivers and to blend different assets together in a way that increases the probability of optimising your outcomes. This process of constructing a robust portfolio requires consideration of the entire portfolio, involving a broad, generalist mindset ranging from interpreting mega trends, through forming views on the relative attractiveness of different asset classes to thinking like a business analyst assessing the long-term value of a specific security.

Why it matters
The de-risking trend favoured by many South African investors can have a profound impact on long-term investment outcomes if left unchecked. By moving their portfolios out of multi-asset funds and into low-risk cash-heavy alternatives, investors have effectively assumed the asset allocation responsibility themselves. This means they need to make the second leg of the timing decision —when to re-risk— themselves.
But market timing is a very risky strategy
Investors that missed only 5.4% of the months on the JSE got zero real return over the last 60 years. Likewise, if as an equity investor you missed only 5.9% of the months over the past 27 years that Coronation has been in business, you would have received zero alpha (or excess return above the market index) [1].

During crisis periods, elevated volatility levels mean that market prices move rapidly. Much like the GFC, the current crisis has required us to implement meaningful active asset allocation decisions on behalf of investors in our multi-asset funds. Examples of signifi- cant actions since the start of the crisis include:
Aggressively cutting exposure to equities early in January and February only to materially increase exposure again in late March/early April 2020.
Implementing a significant rand-hedge (at over R/$18.00).
Increasing our local bond holdings when yields moved up by as much as 400 basis points in late March 2020, and cutting exposure as yields reduced back in the subsequent months.
Taking advantage of the indiscriminate sell-off in domestic equities to enhance the quality of our basket of local shares.
Importantly, the crisis is not over, and we expect many more challenges to surface. We expect that we will continue to make meaningful changes to our asset allocation in the months and quarters ahead as we proceed through what is an unprecedented time.

A multi-asset fund for every investor need
We offer a range of actively managed multi-asset funds suited to most investor needs (local, global and unconstrained) and have built a compelling track record of generating real returns over the long-term across the range. We continue to believe that there are options well suited to the needs of most investors. For more information consider the table on page 18 and 19 and the comprehensive fund fact sheets available on coronation.com.

An example of the benefits of active asset allocation and security selection can be found in the track record of Coronation Balanced Plus, our flagship multi-asset fund aimed at those saving for retirement within the pension system (via a Retirement Annuity, Pension or Provident Fund). The fund can invest in a wide variety of assets, such as shares, bonds, listed property and cash, both in South Africa and internationally. Figure 6 shows the performance of Coronation Balanced Plus versus that of the JSE All Share Index (ALSI), as well as inflation since the Fund's inception in 1996.
We expect to continue making meaningful asset allocation changes in the months and quarters ahead.
Not only did Coronation Balanced Plus meaningfully outperform inflation, it also comfortably outperformed the ALSI. As a multi-asset fund, the diversified nature of the portfolio also meant that the outperformance relative to the ALSI was achieved at much lower risk and volatility than a pure equity investment. The ability of the Fund to actively balance equity exposure with other asset classes and actively manage the assets within the respective asset classes not only delivered equity beating returns over the long term, but also ensured that it was done at moderate levels of risk and volatility.
FIGURE 6
Considering the Fund's performance during up and down months in the market shows the true value of active asset allocation. Figure 7 illustrates the average monthly return of the Fund versus the ALSI as well as the specific outcomes during up and down months. With the fund delivering roughly three-quarters of the upside of the ALSI, but only half of the downside, it was able to provide a return slightly ahead of the market, but with significantly lower volatility.
FIGURE 7

It is this asymmetrical pay-off (more of the upside and less of the downside) that adds significant value over time and makes a well-managed multi-asset fund an enduring cornerstone of any investment portfolio.
Protecting and growing your assets in our multi-asset funds
Below is a snapshot of certain key positions across Coronation's multi-asset funds that demonstrates our pursuit of building robust portfolios that will protect our clients against the eroding effects of financial repression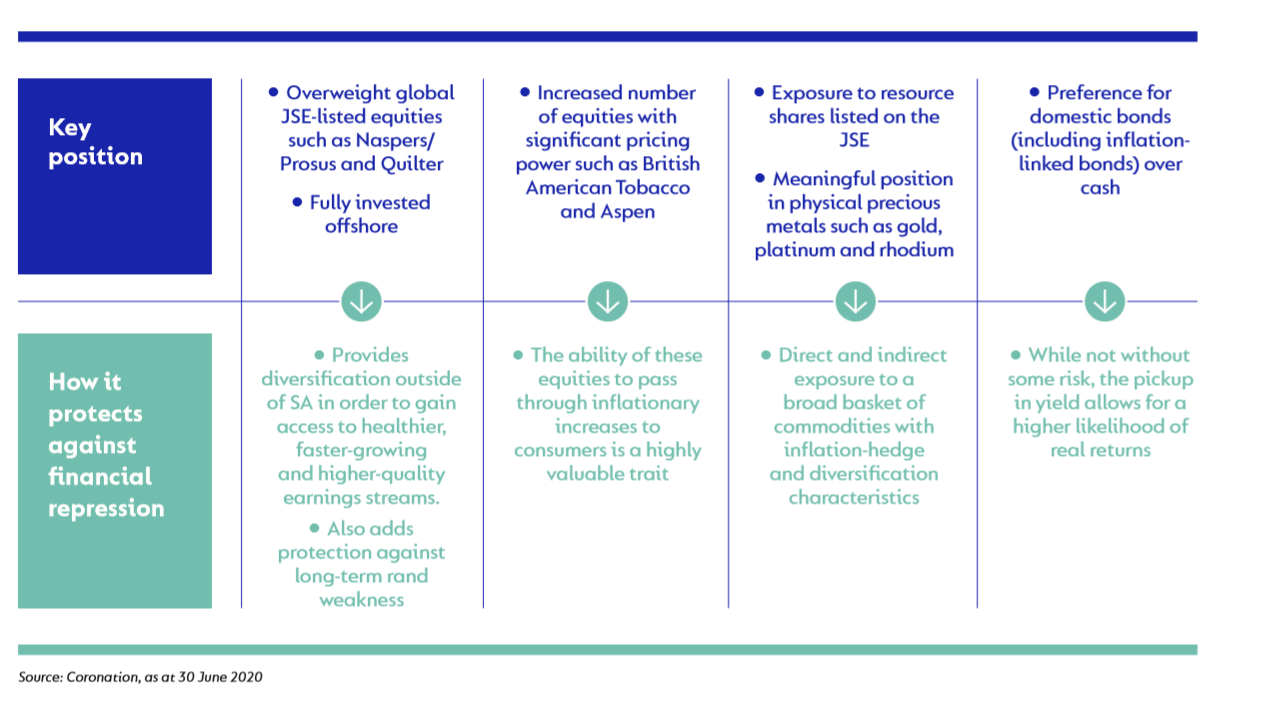 ---
[1] Calculations as at 30 June 2020 based on JSE ALSI returns since February 1960, and outperformance achieved within the Coronation Houseview Equity Portfolio, our longest-running investment portfolio for institutional investors.