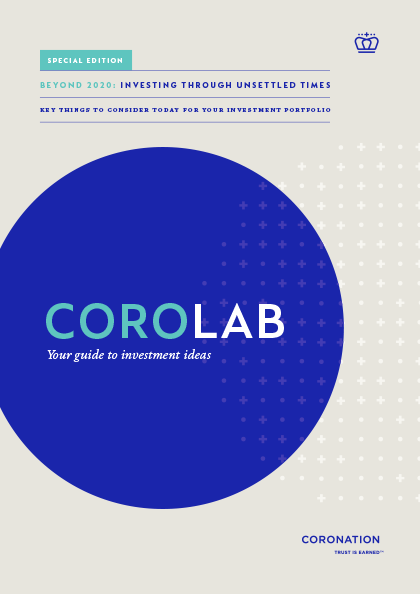 Special Edition: Investing through unsettled times - July 2020
July 2020: Corolab Investment Guide. Key things to consider today for your investment portfolio
QUICK TAKE
Cash has become significantly less attractive. It no longer offers the real returns that it used to and is much less likely to produce competitive prospective returns.
Multi-asset portfolios with larger risk budgets, which include the ability to have healthy equity and offshore exposure, as well as to invest in longer-duration income assets, have become significantly more attractive on a relative basis.
---
Cash or near-cash funds attracted the lion's share of new money over the last few years
In the recent past, South Africans were in the fortunate position of saving in a market where cash and short-term fixed income assets provided yields significantly in excess of inflation – quite unique in a global context. Together with underwhelming returns from domestic growth assets, this has meant that in the five years to end-June 2020, cash or near-cash funds (lower risk income and money market funds) have outperformed the average South African balanced fund, as well as the average South African equity fund.
Figure 3 shows the response from investors as they de-risked portfolios by switching from long-term funds with more growth assets into short-term funds with only fixed interest assets. Many investors were happy to settle for the certainty of achieving reasonable real returns without having exposure to more volatile assets. This strategy has worked well in the recent past.
FIGURE 3
Investors in cash are currently earning a third less on the asset class compared to the beginning of 2020
But what has since happened to cash as an asset class?
Since the start of 2020, the South African Reserve Bank has cut the repo rate by a cumulative 300 basis points. This was to provide relief to an already struggling economy exacerbated by the behavioural changes and lockdowns imposed due to the Covid-19 pandemic. While this benefits lenders, it comes at the expense of savers (cash investors), as the real return on the asset class has now moved much closer to zero. When adjusting for tax on interest, many investors in cash can expect to earn net returns below the current inflation rate. Low interest rates are effectively a levy on savers used to subsidise lenders.

Time to recalibrate expectations
For the foreseeable future the perceived safety of cash or near-cash investments may become a trap for investors, especially in the event of a possible resurgence in inflation over the medium to longer term. In fact, in a tough economic environment where financial repression may become a necessity, we question the ability of cash to provide appropriate inflation protection, especially when considered relative to alternatives such as more diversified multi-asset portfolios.

Limited ability to provide real returns
Over time, the most efficient asset class to achieve inflation-beating returns was equities. With higher debt levels, lower interest rates and the possibility of higher inflation over the long term, the already limited ability of cash, and to some extent even bonds, to provide real returns over time, will be tested even further (as shown in Figure 4).

Note that cost of living expenses (e.g. electricity, municipal rates and taxes, fuel, medical aid, entertainment and imported goods) typically increase in price faster than the official inflation rate, on which Figure 4 is based.

When adjusting for tax on interest, many investors in cash can expect to earn net returns below the current inflation rate.

For the average middle-income to upper-income household in South Africa, the already underwhelming inflation protection offered by cash and bonds may have been even worse than the official inflation rates imply, depending on the composition of your spending basket.
FIGURE 4
Prioritising real assets by taking enough risk
To protect yourself against the risk of inflation, real assets should form the cornerstone of your portfolio. To gain exposure to these assets, you need to be invested in a fund with a mandate that allows exposure to the most appropriate combination of real assets and longer duration income assets given your ability to take risk. Many investors who have de-risked their portfolios over the last five years (as illustrated in Figure 3), or who may have invested too conservatively to begin with, need to consider taking action to increase the risk in their portfolio to an appropriate level.

Enter the multi-asset fund
Over the long term, a well-diversified multi-asset portfolio with a wide mandate and adequate exposure to growth assets remains one of the most robust approaches to protecting your purchasing power.
Apart from being able to invest in cash and bonds, multi-asset funds have the ability, subject to the regulatory and risk-management levels limits that apply, to invest in:
equities (domestic and foreign);
listed property;
physical gold and other precious metals;
other offshore assets; and
government and corporate bonds, including inflation-linked debt.
All of these assets have higher expected returns and thus better long-term inflation protection ability than cash. In addition, these portfolios are diversified and constructed to achieve good risk-adjusted outcomes over time.
Consider this example
An easy way for cash investors to take advantage of the yield gap (as illustrated in Figure 5) in a judicious manner is to invest in a multi-asset fund. The current yield available from cash is less than 4%. In contrast, investors in the 10-year government bond can earn around 9% annual interest. The difference between the interest you can earn on cash versus a 10-year government bond (also called the yield gap) is currently the highest it has been since 1987 as illustrated in Figure 5.
FIGURE 5