Investing offshore - August 2021
2021 August - Corolab Investment Guide
INVEST OFFSHORE WITH US IN RANDS OR IN DOLLARS
Investors can gain international exposure with Coronation through different funds. Those who wish to invest solely in global markets can do so by choosing the most appropriate fund that matches their needs from our range of rand- or US dollar-denominated funds. We offer a range of funds (rand denominated or foreign-domiciled) that are invested in global markets, while most of our flagship domestic multi-asset funds already have a considerable international allocation. Below we discuss these options in more detail.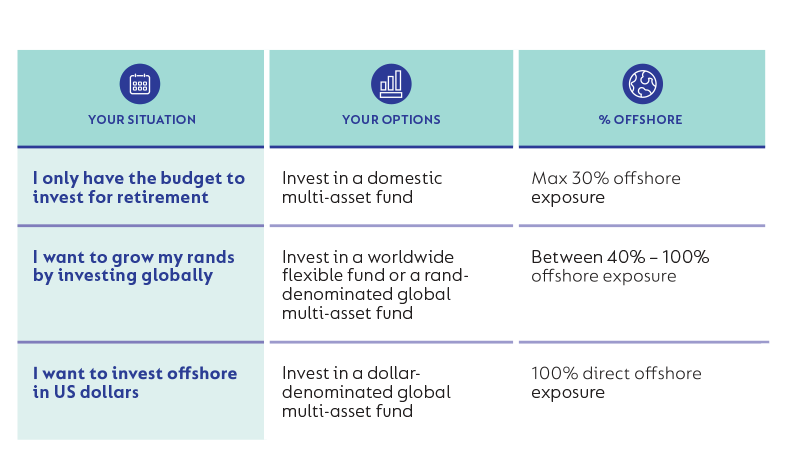 INVEST IN A FUND THAT ONLY HOLDS INTERNATIONAL ASSETS
By living, working and owning a home in South Africa, it must be noted that you already have significant country-specific risk, arguing for additional international exposure. Investors who require more international exposure than is achievable by way of a domestic or an aggressive global allocation fund (discussed below), can therefore use their non-retirement savings to invest in a fund incorporated in another country (i.e. externalising your rands), most often in the EU. In this case, the laws of the country of incorporation govern your investment. Coronation offers a range of funds incorporated in Ireland with the same underlying market exposure as our rand-denominated international funds, but with the added benefit of jurisdictional diversification. We also offer rand-denominated funds that allocate all or most assets to international investments, while remaining easy to use and access, as the funds are established in South Africa. While these funds provide full economic diversification, they still operate under the laws of South Africa and therefore do not diversify jurisdictional risk*.
INVEST IN AN UNCONSTRAINED PORTFOLIO
We offer two multi-asset funds optimised for long-term discretionary investors who are not subject to retirement fund investment restrictions. Coronation Market Plus can invest up to 40% offshore, while investors requiring an unconstrained mandate can consider Coronation Global Optimum Growth [ZAR] Feeder Fund or its US dollar-denominated sibling Coronation Global Optimum Growth. The fund has the ability to allocate across developed and emerging markets (including SA) on a totally flexible basis. Because of this flexibility, the Fund can be expected to have more emerging markets exposure than the typical global multi-asset class fund. Coronation Global Optimum Growth Fund truly celebrates active investing. Its ability to invest in any listed asset from anywhere in the world benefits from the breadth and depth of our global investment team covering equities, bonds and property across the domestic, international developed, emerging and frontier markets. While it is an equity centric solution, allocation to other asset classes will be informed by valuations. The Fund does not target a specific asset allocation.

*Morningstar as at 31 July 2021 Launch date: March 1999; Highest annual return: 51.1% (Jan 2013 – Dec 2013); Lowest annual return: -31.5% (Mar 2008 – Feb 2009) Benchmark: Composite 35% local equities, 35% international equities, 15% local bonds and 15% international bonds For full fund details, download the Fund's comprehensive fact sheet.
INVEST IN A DOMESTIC MULTI-ASSET FUND
Pension funds that are subject to regulatory limits are currently allowed a maximum offshore allocation of 30% (with an additional 10% in other African markets). This level of exposure to offshore assets may be sufficient for investors with the above-mentioned needs. Our domestic multi-asset funds (Coronation Balanced Plus, Coronation Capital Plus and Coronation Balanced Defensive) are mandated to hold the maximum allowable offshore allocation on behalf of investors.
---
*One example of jurisdictional risk is that South Africa still enforces exchange controls, which limit the amount that asset managers can invest outside South Africa on behalf of clients. The current limits are 30% globally and 10% in the rest of Africa for retirement fund investors, and 40% globally and 10% in the rest of Africa for discretionary investors.