Economic outlook - a series of unfortunate events
01 April 2011 - Chantal Valentine
The quarter was dominated by a series of crises globally, which hit the world on every front: economic, political and natural disaster. The European debt crisis remained a key worry, with further attempts to help the Euro periphery still not fundamentally addressing the sustainability of debt in these countries. Politics dominated the Middle East and Africa, from Cote d'Ivoire's disputed election and subsequent slide into violence to the uprisings seen in a number of MENA countries, including Tunisia, Egypt, Libya, Yemen and Bahrain. Natural disasters were not long out of the headlines, with severe floods in Australia, the earthquake in New Zealand and then the devastating earthquake and subsequent tsunami that hit Japan, leading both to terrible loss of life and property as well as a nuclear crisis. Already on an upward trend, food and energy prices were sent higher by some of these developments. Fortunately, the global growth backdrop had been steadily strengthening, providing some resilience against the sentiment and real impacts of the above events.
In particular, global manufacturing has been very strong – a classic 'V' shape recovery has been in evidence here, and this has been broadbased across both developed and emerging markets. Manufacturing has lost a little momentum recently, but that is hardly surprising given the strength of the rebound (see adjacent chart). This has clearly supported growth and jobs, and has been a particular boon for manufacturing-centric economies; for example, German growth and jobs have performed beyond expectations due to the performance of its manufacturing sector.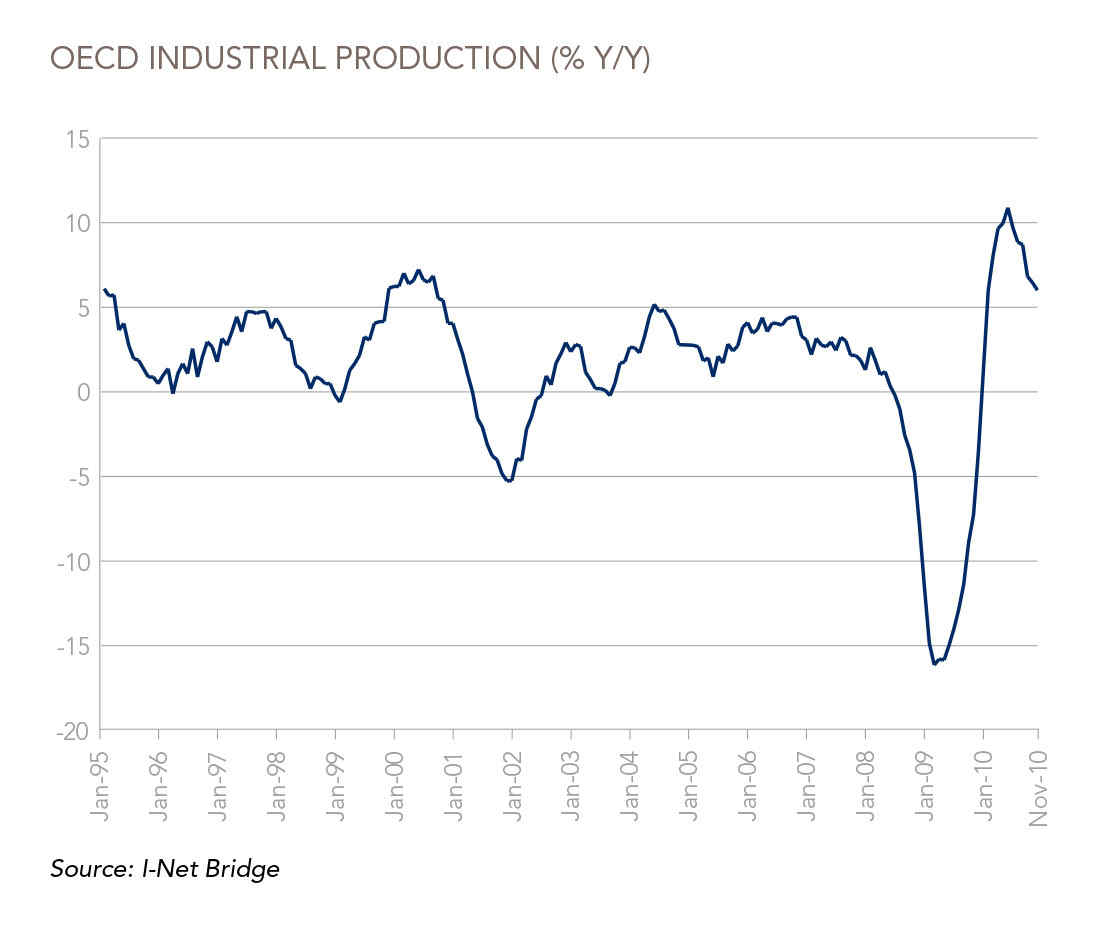 The flip side of this, however, has been continued strong demand for industrial commodities, as well as the manufacturing sector reaching capacity constraints before other sectors. Both these factors have added to global price pressures.
This positive global growth momentum acted as a significant support for South African exports, with the result that South Africa recorded a sizeable trade surplus (R28 billion) in 2010. This limited the current account deficit to 2.8% of GDP last year (from 4.1% in 2009 and 5% – 7% in the preceding three years). In the final quarter of 2010 in particular, the current account deficit was a very narrow 0.6% of GDP. While there was much jubilation around this number, our take was somewhat different. Yes, the deficit was the lowest since the third quarter of 2003, but it was also the first time since then that the deficit was not fully funded by capital inflows. A deficit is only 'small' if it is easy to fund. There seems to be a significant level of complacency about a wider current account deficit this year, with the general perception seeming to be that (say) 4% – 5% of GDP is not a problem. But our expectation of 4.6% equates to around R135 billion. That is a large amount of money if funding is not forthcoming, and we thus remain concerned about rand vulnerability as the year progresses.
Apart from a few short-lived bouts of weakness, the rand has remained very resilient so far, which has helped dampen some of the effect of global inflation pressures on the domestic inflation rate (which so far remains below 4%, but seems to have clearly turned upwards). However, even despite the rand's strength it is undeniable that global pressures are starting to make themselves felt. The most immediate and clear impact comes from fuel prices, where the April petrol price hike (also including other levies/taxes) will see the retail price of petrol 23% higher than its recent low in September 2010. Food price inflation, while still low at consumer level, has clearly turned up sharply and recent PPI data indicate more to come.
The SARB so far is indicating the 'usual' response to commodity price shocks: that it will not respond to first-round effects, but will wait to see if there are second-round effects before responding. While this is a textbook response, it is one that worries us. To begin with, food prices (more so than petrol) usually do have second-round effects, because of the importance of food in low-income earners' spending baskets, and therefore there is a consequential impact on wage negotiations. Secondly, because wage negotiations are already high relative to consumer inflation – it is still early in the wage season but settlements so far seem to be coming in at double or higher than latest CPI numbers. And last, but definitely not least, we are worried that we are beginning from a point where we have very easy monetary policy, which makes it easier for second-round effects to take hold. On the SARB's own inflation forecast, the (forward) real repo rate is slightly negative at the moment – a situation we simply do not believe is justified against a background of near 4% growth rates, and where inflation pressures are building. The SARB's approach currently seems to echo that of the Federal Reserve (whereas the European Central Bank is taking a much tougher line on inflation). And as in the US, breakeven inflation rates (inflation expectations derived from the bond market) have been rising, presumably as investors worry about inflation outcomes in light of continued easy policy. In South Africa, most breakeven inflation rates are above the upper bound of the 3% – 6% target range. Our own expectation is that inflation will breach the upper end of the target later this year, that second-round effects will become more obvious, and that the SARB will start raising rates before year-end – most likely, in the third quarter.