We manage all our international funds according to the same proven longterm, valuation-driven investment philosophy that we have applied locally for almost 28 years. While most managers face enormous pressure to perform well over 12-month periods – typically resulting in poor long-term decisions – our ability to focus on a time horizon of five years and longer allows us to invest in assets that we believe are trading at substantial discounts to our assessment of their underlying long-term value.
Based in Cape Town, our integrated global investment team is one of the only teams in the world with three former chief investment officers (CIOs) still actively managing money. Led by CIO Karl Leinberger, the team comprises 70 professionals, with an average of more than 14 years in the industry and just over 10 years with Coronation. Our developed markets equity team of eight analysts is headed by Neil Padoa and supported by former Coronation CIO Louis Stassen. The developed markets team is also closely integrated with our global emerging markets team of 10, led since inception by Gavin Joubert. Their efforts are also supported by our global multi-manager team, led by another former Coronation CIO Tony Gibson. This team continues to be responsible for the core global equity building block used in our domestic multi-asset funds, namely Coronation Balanced Plus. Further depth is provided by the five analysts in our Global Frontier Markets team.
CONSTANT INTERACTION AND EXCHANGE OF INVESTMENT INFORMATION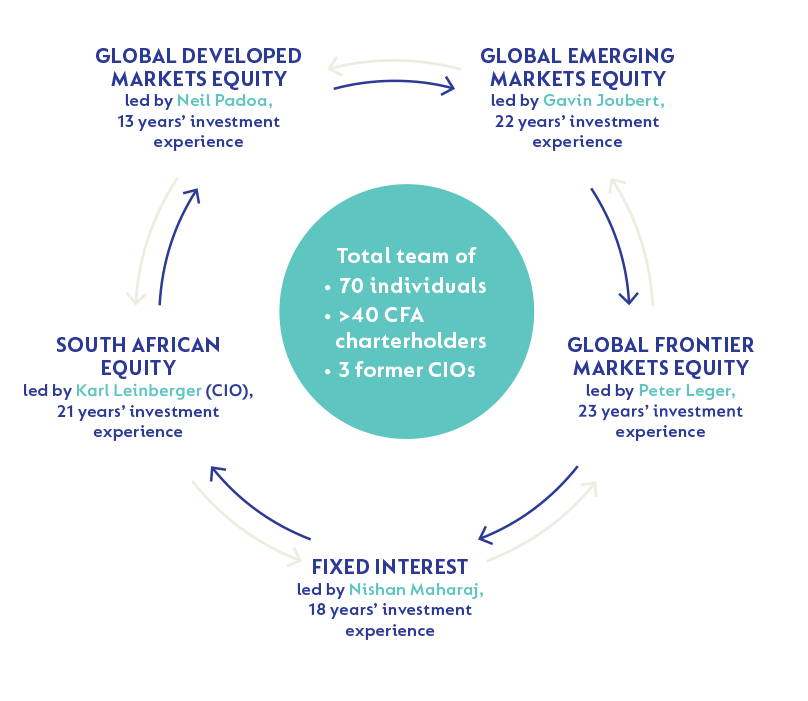 Our proven multi-asset capabilities across global markets have generated significant value for investors over the long term, as demonstrated by the track record of Coronation Global Optimum Growth [ZAR] Feeder Fund (Figure 3). Having pioneered the uniquely flexible worldwide multi-asset mandate 22 years ago, the Fund is an aggressive long-term portfolio that invests in the best opportunities selected from local, emerging and developed markets. Key highlights as at end July 2021 include:
For every R1 invested at inception, you would have R19 today compared
to R3.50 needed to keep up with inflation – resulting in a five-fold
increase in purchasing power over that period.
ranked first or second in its Morningstar category over all longer-term
periods of 10, 15 and 20 years, while outperforming more than 90% of all competitors over the last 5 years. (Source: Morningstar)
Launch date: March 1999; Highest annual return: 51.1% (Jan 2013 – Dec 2013);Lowest annual return: -31.5% (Mar 2008 – Feb 2009) Benchmark: Composite 35% local equities, 35% international equities, 15% local bonds and 15% international bonds For full fund details, download the Fund's comprehensive fact sheet. Source: Coronation and IRESS as at end-July 2021 comprehensive fact sheet. Source: Coronation and IRESS as at end-July 2021
The breadth and depth of our investment team's expertise is also evident in the more than 10-year track records of our pure global multi-asset funds among international peers (see Figures 4 and 5).
*Peer group consists of comparable global funds available on the major South African-based offshore platforms. Returns are class P (clean or platform fund class), quoted for the USD-denominated fund for the period September 2009 (launch date of fund) to July 2021. For full details on the retail class of the fund, download the Fund's comprehensive fact sheet. Source: Morningstar

* Peer group consists of comparable global funds available on the major South African-based offshore platforms. Returns are class P (clean or platform fund class), quoted for the USD-denominated fund for the period March 2010 (launch date of fund) to July 2021. For full details on the retail class of the fund, download the Fund's comprehensive fact sheet. Source: Morningstar