By allocating money internationally, you reduce the level of risk associated with achieving a specific rate of expected return, as demonstrated in the risk-return frontier in Figure 1.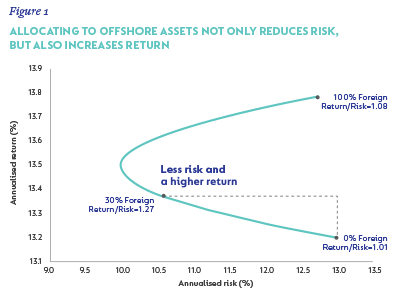 For retirement savers, the classic recommendation is to have a minimum international allocation of 20% to 30% through the cycle. These long-term investors require an annualised return of inflation plus 4% to 5% in rand terms with which they need to buy a basket of local goods and services. Figure 1 shows that at 0% international exposure, these investors get compensated with 1.01 units of return. But by having international exposure of 30%, their units of return increase to 1.27 (and at less risk than a portfolio without any international exposure).
Should you consider investing more than 30% offshore? Investors who can justify a larger international allocation (more than 30%) include those who:
spend regularly in foreign currency;
need to consider offshore bequests because multiple generations live on
different continents; and/or
do not need to draw a domestic income from their savings.