Finding the middle ground as a conservative offshore investor - September 2020
Back to contents
With worldwide interest rates at decades lows, it is becoming ever more difficult to find a well-balanced, risk-conscious fund for conservative investors.
A number of our clients have recently approached us with a common predicament. They want to invest offshore for all the right strategic reasons, but they don't want to take on too much risk. The result is that they simply don't know where to allocate their capital in the current environment. And it is because they are faced with the following conundrum:
Record-high stocks and record-low yields
On the one side of the coin, return expectations on global income assets, such as cash and bonds, are uncomfortably low – a result of record-low interest rates implemented mostly by developed market central banks in reaction to the Covid-19 crisis.
These record-low interest rates are making investments in these asset classes unappealing, with the US 10-year Treasury offering a perfect case study. At the time of writing, the 10-year yields were hovering around historical lows of 0.63%. A yield increase of as little as seven basis points (something that could conceivably happen in a matter of minutes) would result in the bond generating a total return for investors of zero percent over the next 12 months.
On the other side of the coin, the amount of liquidity injected into the financial system to combat the effects of the pandemic is buoying equity markets back to the levels reached before the Covid-19 crisis, with the S&P 500 reaching new record highs in August. As a result, investors are questioning whether the price of global equities are running ahead of the underlying fundamentals, and when that trajectory will reverse.
Finding solace as a conservative investor
Conservative investors may be pleased to know that a solution that offers well-considered exposure to both sides of the coin does exist and the Coronation Global Capital Plus Fund sets out to achieve just that.
An actively-managed, low-risk global balanced fund, Coronation Global Capital Plus represents our best long-term global investment view, moderated for investors with smaller risk budgets. This means that investors gain access to those asset classes that are able to outperform cash and inflation over time (up to half of the portfolio can be invested in growth assets) in a manner that doesn't expose the fund to excessive risk.
A unique mandate globally
Global Capital Plus is globally unique given its dual objectives of delivering both a reasonable return while being cognisant of its investors' low tolerance for risk. In managing the fund to achieve these objectives, it aims to offer downside protection from equity market volatility, ideally preserving capital over a 12- to 24-month period (although this is not guaranteed). This focus on capital preservation is achieved through a carefully considered active portfolio construction process tailored to the desired fund objective. Investors get true diversification with the growth asset component of the fund spread across equities, real assets (such as infrastructure and property) and equity-like fixed income instruments, while the balance of the portfolio is allocated across assets that prioritise inflation protection, absolute returns and capital preservation.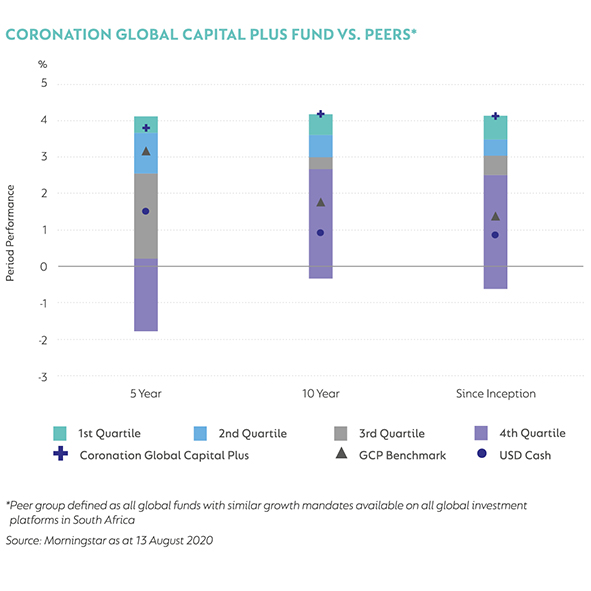 Returns are class P (clean or platform fund class), quoted for the USD-denominated fund for the period September 2009 (launch date of fund) to 13 August 2020. For full details on the retail class of the fund, refer to the Fund's comprehensive fact sheet.
A 21-year track record
The fund is built on our 21-year track record of managing global multi-asset class funds on behalf of South African investors and it sits comfortably in the first quartile of similar funds available to SA investors over meaningful periods (as illustrated in the graph).
Its track record is also testament to the depth and breadth of our global investment research effort. Over the past decade, we have built up substantial international expertise and research capabilities with a team of 22 skilled individuals covering non-SA shares across developed, emerging and frontier markets. Doing proprietary research on opportunities across the world gives us the opportunity to blend the best ideas from our research into building resilient portfolios that can weather the times (whatever they might be) and matched to the varying investor needs.
---

Christo Lineveldt is an investment specialist at Coronation Fund Managers.
This article first appeared in the 10 September 2020 edition of Finweek FundFocus.