Investors' needs differ. By mandating fund managers to allocate between domestic and international assets, worldwide flexible funds can help meet these varied needs.Maslow's hierarchy of needs describes how human motivation manifests through five categories of needs. The idea being that one first must meet the most basic of human needs (such as food, water and shelter) before progressing to more complex (and abstract) ones involving certain psychological and self-actualisation desires.
Similarly, the needs of South African investors can be arranged from the most basic, such as simply avoiding losses, through to the most complex (and desirable) involving the long-term growth of global purchasing power.
This is an important concept for long-term discretionary savers. In times of crisis, such as the current Covid-19 pandemic and the accompanying economic fallout, we are typically driven by the most basic of investor needs: don't lose money. However, one must maintain focus on your actual goals which, for many of us with long-term investment horizons, is to ensure that our hard-earned savings compound in real terms over multiple decades. And it is also becoming increasingly important that it does so in hard currencies – not only in rand.
So, what is the best strategy to achieve this complex goal?
Given the high hurdle involved, you are most likely best served by allowing as much flexibility as possible – enter worldwide flexible funds. These funds are not bound by regulatory limits, are geographically unconstrained and can allocate to non-equity assets. In short, they have full flexibility to allocate across all listed asset classes in pursuit of outperforming a benchmark. It is therefore no surprise that these mandates have become more popular among local investors over the past several years (see Figure 1).
Worldwide flexible funds have the benefit of mandating the fund manager to allocate between domestic and international assets, which is particularly attractive to those investors who prefer not to make any calls with respect to the level of offshore exposure that they should have, the currency or choosing between developed or emerging market assets.
At Coronation, we offer an unconstrained worldwide flexible mandate called the Coronation Optimum Growth Fund. The fund will typically invest between 50% and 90% of its portfolio in international assets, will be equity-centric given its long-term focus, and is benchmarked against a combination of shares and bonds (70% shares and 30% bonds) as well as local and global assets (50% domestic assets and 50% global assets). However, as a clean-slate portfolio, it has little regard for the benchmark.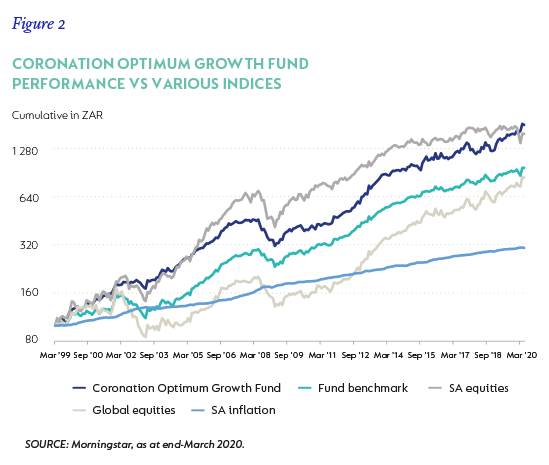 Requiring a breadth and depth in skills
Worldwide flexible mandates are, however, complicated and require a unique set of skills with which to maintain a successful long-term track record. This is evident in the low survival rate of the category, with only 18% of the funds launched since 1999 and less than half of the funds launched since 2009 in the category still in existence today.
Coronation Optimum Growth Fund has proven its pedigree by ranking first in the category over 10, 15 and 20 years, and since its inception it has been a true long-term compounder delivering a real return of 8.7% per annum (net of fees as at end-May 2020). In the process, it has not only outperformed its benchmark, but also local and global equities (represented in graph 2 by the FTSE/JSE All Share Index and the MSCI All Country World Index) and it has done so with roughly three-quarters of the volatility*.
It is this track record that provides further evidence of the fund's ability to take advantage of our large integrated investment team's wide research coverage across local, developed and emerging markets and deep knowledge of all listed asset classes.
We therefore believe that Optimum Growth is a sound solution for long-term investors who are not subject to retirement fund investment restrictions, and who are looking for a set-and-forget solution where their fund manager decides on the optimal geographical and asset allocation with which to achieve the toughest of investor needs.
For an interview by CityWire with the portfolio manager, click here.
*Since inception annualised standard deviation of the Coronation Optimum Gowth Fund as at 31 May 2020 was 12.51% compared to 16.94% for the ALSI and 16.44% for the ACWI (ZAR).
This article originally appeared in the Fund Focus supplement in the 25 June edition of finweek.