A MILESTONE FOR TOP 20
Since its inception in 2000, Top 20 has been managed to offer its investors an actively-managed and concentrated portfolio of what we believe to be the best opportunities on the JSE.
The focused nature of this fund has required discipline from its managers and, at times, true grit from its investors. As the fund is limited to no more than 20 investment ideas, the opportunity to outperform the index through disciplined stock selection is greater, but at the cost of lumpy returns over the shorter term.
Investing is a long game
As can be seen from the distribution of negative and positive monthly alpha in Figure 1 below, the investor's reward for enduring many periods of short-term underperformance is exceptional wealth creation in the long run.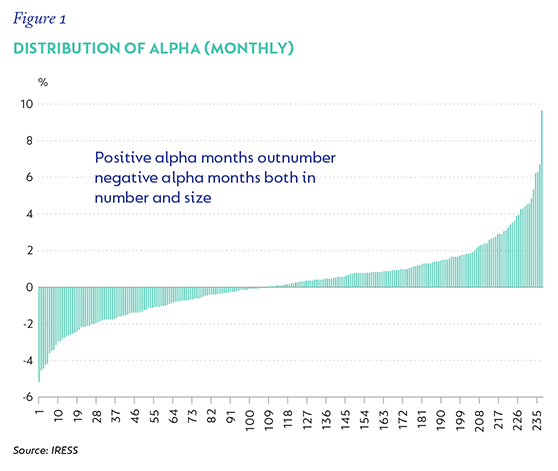 The fund's annualised alpha of 3.6% after all fees means that R100 000 invested at launch 20 years ago would have grown to more than R2 million as at the end of September 2020. This is double the return when compared to a similar investment in the benchmark index (as illustrated in Figure 2 below).