Quarterly Publication - October 2016
Spring 2016
With politicians behaving badly everywhere, the news cycle may have left you somewhat jaded. From the UK's shock and (under prime minister Theresa May) strengthening bid for isolationism to the Mexican peso emerging as the key gauge of who is winning a US presidential debate, abnormal is the new normal.
In SA, the headlines have been equally alarming. Every day brings more shock news of corruption and political strife, as well as scenes of burning universities and protest. The current mood is akin to the social unrest that plagued our country in the years leading to the first democratic elections in 1994.
It sometimes feels difficult to remain optimistic and to keep perspective. Still, ours is a noisy and vibrant democracy, and growing ever stronger. This was demonstrated by the local government elections in August, which delivered historic shifts in support as citizens expressed their discontent.
Fact is, the political and economic noise worldwide will not die down. Some of the developments will have long-term implications and require a recalibration of expectations. But Coronation's investment philosophy allows us to block out the short-term commotion and single-mindedly pursue the most rewarding opportunities. These often emerge when there is more bad news than good (and when recent financial market performance is underwhelming). This focus on the fundamentals has underpinned our meaningful investment outperformance over the long term.
DECODING THE PASSIVE SALES PITCH
In this edition, we provide an active manager's response to the considerable push toward passive investing over the past five years. Passive investing has created inefficiencies and mispricing in the market, offering opportunities for true active investors like ourselves. No wonder our CIO Karl Leinberger writes in the following article that index rebalancing days are his favourite days in the office.
Still, the fundamental flaws of index tracking as an investment strategy are becoming increasingly apparent. Its sales pitch is based on instant gratification and the need for a known cost, which are taking precedence over the actual goal of retirement investing: to have sufficient income to live on after retirement. But it is not hard to see why investors fall for the sexy sales pitch: with so much information and choice out there, it is easy for the key issues to get lost in the clamour.
Karl provides clarification in his article, and challenges the conventional thinking behind the sales pitch. From the true cost of these products to the integral shortcomings of a passive investment strategy (which forces investors to buy high and sell low), he finds that key realities are often glossed over.
As Karl also explains, tracking the index can be hazardous in a concentrated market like SA. Often investors end up with the very antithesis of the passive proposition: single-stock risk. With so few shares dominating the market, many investors are oblivious to the fact that they are dangerously exposed. Elsewhere in this edition, we explore another problem with benchmarks, particularly in emerging and frontier markets. We have long argued that benchmarks are often not a true and accurate reflection of the investable universe of those countries, nor do they represent the best companies that investors could invest in. The head of our global frontiers team, Peter Leger, explains why active, clean-slate investing is a less risky way to access the best opportunities in these markets.
In addition to our quarterly contributions on the economy and markets, you will find a number of investment cases in this edition, including for Anheuser-Busch InBev (ABI). Following the SABMiller takeover announcement, our SA strategies were early investors in the Brazilian beer behemoth on the strength of existing coverage and fundamental analysis from our global investment team. Our analysts are frequent visitors to Brazil, and have over the years done extensive research into ABI.
BEST AFRICA FUND MANAGER
Coronation was recently named the Best Africa Fund Manager at the annual Ai Capital Market Index Series Awards held in New York. We are proud to have received the award three times in the eight years since the inception of our Africa strategies. This, we believe, is testament to the value that has been created for our clients and the success of replicating our proven investment philosophy and process across emerging, developed and frontier markets.
ADDITIONAL SECURITY MEASURES FOR OUR INVESTORS
We continue to invest in our security infrastructure to ensure we do our utmost to protect you against identity theft and cybercrime. To bolster our defences, we have recently started to implement voice biometrics. This means we will be able to use your unique voiceprint for authentication in future telephonic interactions. When next you call our client service representatives, we will register your voice details. This may mean staying on the line slightly longer than you are used to, but we think that the additional protection of your hard-earned capital will make this inconvenience worthwhile.
We hope you enjoy the read. As always, please do not hesitate to contact us if we have failed to live up to your expectations.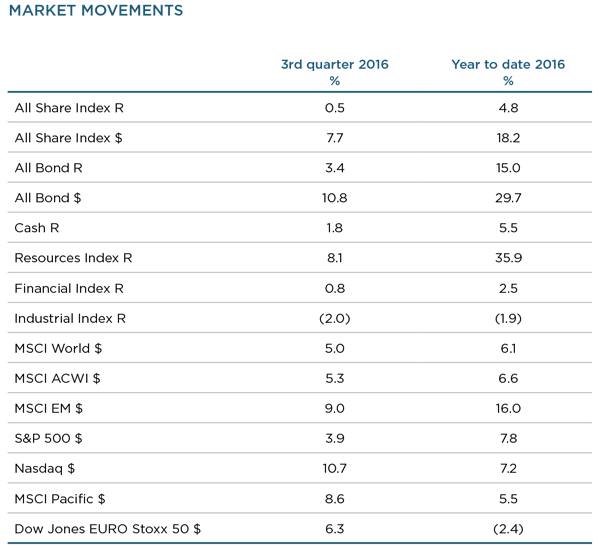 ​