Quarterly Publication - October 2017
INCEPTION DATE


14 July 2008
PORTFOLIO MANAGERS


Gavin Joubert and Suhail Suleman. Gavin is head of Coronation's Global Emerging Markets investment unit with 20 years' investment experience. Suhail is a portfolio manager within the investment unit with 15 years' investment experience.
---
OVERVIEW
Coronation Global Emerging Markets Equity is an actively managed equity strategy that invests in what we consider to be the best investment opportunities in emerging markets. It aims to deliver long-term capital growth through a focused equity portfolio of securities that we believe offers the most compelling risk-adjusted returns. Our long-term objective is to outperform the MSCI Emerging Markets Index by 3% to 4% per annum over five years and more.
We leverage off our 24 years' experience of managing money in an emerging market like South Africa, which we believe has been crucial in framing our thinking about managing emerging market portfolios. It has provided a key competitive edge relative to global peers.
PORTFOLIO CONSTRUCTION
We are long-term, valuation-based investors. The fair value of a company represents a crucial anchor for our portfolio actions. This strict valuation discipline is exactly the same approach we have used successfully in South Africa for almost a quarter of a century.
Research
We conduct our own research to determine what a share is worth, and only invest if it trades at a sufficient margin below this level. Our estimate of the fair value of a share is based on our own detailed modelling, including of a company's normalised revenue, cost and margins for at least five years out. Setting our own assumptions allows us to avoid anchoring off 'consensus expectations' and sell-side recommendations.
Our proprietary company research is supported by extensive first-hand scrutiny of potential holdings, including country visits and meetings with management, competitors, industry experts and other information sources. Our coverage list comprises around 200 shares that we have filtered down from the broader number of companies listed on emerging market exchanges.As long-term investors, environmental, social and governance criteria are fully integrated into any investment case to understand the long-term sustainability of a business.
Putting the portfolio together
In constructing our portfolios, we pay no attention to the emerging market indices. Our portfolios are constructed on a completely clean slate and bottom-up basis based on the stocks we believe offer the best risk-adjusted value. Our portfolios are fairly concentrated (50 to 60 stocks) and reflect our high-conviction ideas prominently, but we are not buy and hold investors. If a share reaches fair value in a short period and we believe that the fair value remains correct, we will sell the share. Our portfolios will often have stocks that do not feature in many other funds around the world. Risk is controlled by only owning stocks that trade well below fair value, and our portfolios are constructed with no excessive exposure to any one country, industry or other single identifiable factor that could have an unexpected and outsized impact on portfolio returns.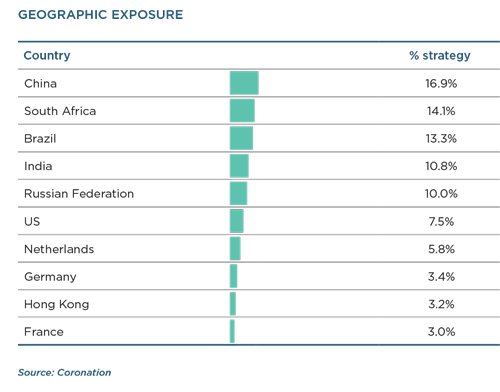 Some of our key current holdings are stocks that are exposed to the Chinese e-commerce and internet sector, Brazilian tertiary education and Russian food retail.
COMPELLING TRACK RECORD
The Coronation Global Emerging Markets Equity strategy has delivered an annualised return of 8.5% (in US dollar, gross of fees) since inception in 2008. The strategy has outperformed its benchmark (MSCI Daily Total Return Net Emerging Markets USD) by 5.4% per annum.
---
The volatility of the MSCI Daily Total Return Net Emerging Markets USD (NDUEEGF Index) represented above may be materially different from that of the Global Emerging Markets Equity Strategy. In addition, the holdings in the accounts comprising the Strategy may differ significantly from the securities or components that comprise the MSCI Daily Total Return Net Emerging Markets USD (NDUEEGF Index). The MSCI Daily Total Return Net Emerging Markets USD (NDUEEGF Index) has not been selected to represent an appropriate benchmark to compare the Global Emerging Markets Equity Strategy's performance, but rather is disclosed to allow for comparison of the Strategy's performance to that of a well-known and widely recognised index.
This article is for informational purposes and should not be taken as a recommendation to purchase any individual securities. The companies mentioned herein are currently held in Coronation managed strategies, however, Coronation closely monitors its positions and may make changes to investment strategies at any time. If a company's underlying fundamentals or valuation measures change, Coronation will re-evaluate its position and may sell part or all of its position. There is no guarantee that, should market conditions repeat, the abovementioned companies will perform in the same way in the future. There is no guarantee that the opinions expressed herein will be valid beyond the date of this presentation. There can be no assurance that a strategy will continue to hold the same position in companies described herein.