Investment views
European value retail
An attractive, growing sector in both Eastern and Western Europe.
Value retail thrives in Central and Eastern Europe (CEE) where consumers are extremely price conscious
High minimum wage increases across CEE is positive for the value retail sector
Dino Polska is a fast-growing value food retailer in Poland, the most populated country in CEE
Pepco Group is expanding across CEE and Western Europe, and is on track to become Europe's largest value variety retailer
---
VALUE RETAILERS, ALSO called discount stores, are shopping outlets that sell branded and private label merchandise at significantly lower prices than conventional retailers. In order to offer low prices, value retailers negotiate low wholesale prices with suppliers, maintain high sales volumes through regular promotions, and furnish stores with basic fixtures, displays and decorations. The low-cost, low-price business model has proven to be a winning retail format globally as cash-strapped, value-seeking customers search for quality products at bargain prices.
In Europe, value retail is relatively underpene­trated compared to the US, but the sector is rapidly growing. It is estimated that the number of value retail stores in Europe could double by 2029, taking even greater share of the overall retail market.
CENTRAL AND EASTERN EUROPEAN VALUE DEMAND
Value retail penetration varies across Europe, with some of the greatest demand for value coming from countries in CEE, such as Poland, Romania, Hungary and the Czech Republic (Czechia). CEE consumers are estimated to have the highest level of price sensitivity globally and are extremely value conscious. In Poland, the most populated CEE country, consumers rank 'price' as the most important factor in deciding where they shop, followed by 'quality' and 'value for money' (see Figure 1).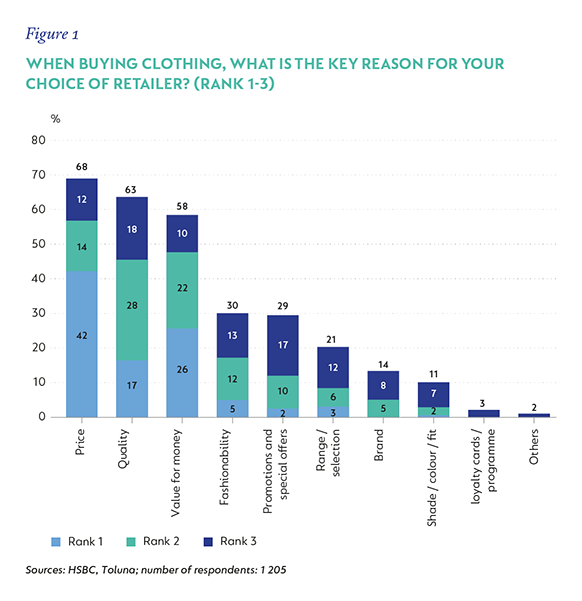 Across CEE, the disposable incomes of value consumers are rising due to high minimum wage growth. In Poland, Romania and Czechia, minimum wages outpaced nominal wage growth between 2012 and 2019. In 2020, minimum wages increased by high single digits in Romania, Hungary and Czechia, and surged by a sizeable 15.6% in Poland. The Polish government plans a continuation of steep increases in minimum wages through to 2024, increasing the minimum wage to 40% higher than 2021 levels. While the proposed hikes should have some negative impact on value retailers due to higher employee costs, the increase should lead to sustainable growth in the disposable incomes of value retailers' core customers and support increased value retail spending.
In the value retail segment, online sales have not yet been widely adopted in CEE countries. Ecommerce penetration is low, ranging from 12% to 24% compared to >30% in the UK.
Highly dispersed populations in CEE countries make ecommerce operations less attractive than in many Western European markets, as the proportion of CEE consumers living outside major cities is high, making last-mile logistics more expensive. In addition, credit card penetration across CEE is low, which poses somewhat of a barrier to ecommerce.
Globally, many discount retailers have not inte­grated ecommerce, as the low average trans­action sizes make it difficult to absorb order delivery and fulfilment costs, and be profitable online.
However, value retailers are not behind the times; they embrace digital tools to connect with their customers by offering online product search func­tionality, and using social media and digital advertising to promote their products. Demand for value retail continues to grow despite the lack of ecommerce, as price remains king.
POLISH FOOD RETAIL – DINO POLSKA
With its population of 38 million, Poland is CEE's largest food retail market. The market is largely formalised, with high penetration of modern food retail, but it is still very fragmented, offering opportunities for value food retailers to consol­idate the market. While price competitiveness remains most important for Polish consumers, the need for convenient grocery shopping has increased. This trend accelerated in 2020 as the pandemic resulted in more consumers shopping in smaller stores, closer to home. Leading Polish food retailer Dino Polska offers both convenience and low prices, and has rapidly expanded from 154 stores in 2011 to approximately 1 800 stores across Poland today (Figure 2).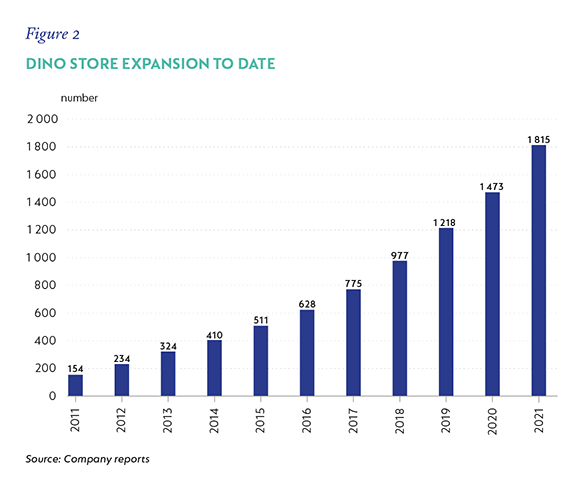 Dino's strategy is built on low levels of urbani­sation and the lack of convenient modern food retail alternatives in smaller towns and rural areas. Its stores are mid-sized supermarkets primarily located outside major cities, as 60% of the Polish population lives in small towns and rural areas.
The company has an effective 'cheap-enough' pricing strategy where it matches the pricing of household staples and basic food items to lowest price discounters. The low pricing of basic items attracts footfall, while pricing of the overall product portfolio remains broadly in line with the market, to remain competitive.
While discounters and hypermarkets generally offer similar prices to Dino, their large store footprints present a hurdle to their expansion to outlying areas. Dino's store base continues to expand in small towns and rural areas, and the company sees significant white space for further store expansion. We expect food discounters and value supermarkets like Dino to continue gaining share of the overall food retail market in CEE, as its expansion results in greater economies of scale and leads to better value for consumers.
VALUE VARIETY RETAIL – PEPCO GROUP
Alongside the shift in value food retailing, discount apparel, homeware and fast-moving consumer goods (FMCG) retailers are rapidly expanding across Europe, particularly in CEE countries. Penetration of discount retailing in CEE is relatively low at 19% compared to 23% in Western Europe, indicating significant potential for further value variety retail expansion.
Pepco Group is one of the fastest-growing value retailers in CEE, with the potential to become Europe's largest value variety retailer. The company aims to be the price leader in its markets and operates an 'everyday low price' strategy instead of a heavy reliance on promo­tions. Pepco Group's offering is perceived as good value for money, with low prices for good quality items, which appeals to core value customers.
Pepco Group is a multi-format value retailer, with over 3 000 stores across Europe (Figure 3). The Group comprises three brands:
PEPCO*, a clothing and general merchandise retailer in Poland and other CEE countries (the European equivalent of Pep in South Africa).
Poundland, a FMCG, general merchandise and clothing retailer in the UK.
Dealz, the Poundland equivalent outside the UK, currently in Poland and Spain.
PEPCO is the biggest brand within the Group, accounting for almost 80% of profits. About half of the Group's PEPCO stores are located in Poland, followed by numerous stores in other CEE countries, such as Romania, Hungary and Czechia. Poland has become a battleground for value variety retail, with value retailers rapidly expanding their store bases in the region and Western European retailers starting to enter the Polish market.
The most recent example of this is leading UK value retailer Primark, which opened its first store in Poland in August 2020.
While competition in Poland is intensifying, PEPCO's large scale and everyday low prices should provide some degree of protection from increased competition.
Pepco Group management sees significant oppor­tunities to expand across Europe and has set a target of opening 300 PEPCO stores and >100 Dealz stores per annum over the next three years. The Group uses a centralised management and sourcing approach, combined with standardised product assortment and a consistent store layout across each brand. These key practices enable fast store rollouts as they simplify the process of setting up in new markets and support longer-term operating efficiencies.
In addition to CEE, Pepco Group sees Western Europe as an exciting opportunity for further expansion, with the market opportunity in Italy and Spain roughly equal to the size of the entire CEE market. The Group plans to expand in Western European markets with its attractive offering, selling at Eastern European prices. In 2020, Pepco Group opened its first stores in Italy and delivered well above target, with profits approximately 40% higher than in its CEE stores. The company plans to expand across Italy, Spain, Austria, Greece, Germany and Portugal, and remains on track to become Europe's largest value variety retailer.
Overall, we view European value retail as an attractive, growing sector. Our outlook on both Dino Polska and Pepco Group is positive; however, we believe that Dino is currently overvalued. Pepco Group is our top pick in the European value retail sector.
The company has delivered a solid operational performance since the stock listed on the Warsaw Stock Exchange in May 2021. We feel that the market is overlooking Pepco Group's ability to successfully expand its footprint across both Eastern and Western Europe, and grow its share of the total retail market. In our view, Pepco Group remains attractively valued over a long-term horizon and we therefore own Pepco Group shares in our portfolios. +
---
Disclaimer