Investment views
Mobile World: Vietnam's modern wet market
Vietnam has seen significant export growth over the past two decades and was a top 10 growth economy in 2020
The modernisation of the traditional wet market is the latest example of the company's long-term thinking at work
The outlook remains bright and it's one of the most attractive frontier markets, in spite of an uptick in Covid-19 cases in 2021
Mobile World is a Vietnamese success story that has enjoyed exponential growth over the past decade
---
GROWING UP, I always enjoyed movies, espe­cially ones with a plot twist close to the end. Whether it was Fight Club, The Usual Suspects, Shutter Island, The Prestige or more recently, Gone Girl or even Frozen, I loved them all. Just when you had all the characters all figured out, everything changed. My favorite twists were always the ones that revealed how one of the characters had been two or three steps ahead of the others, throughout the film. Their long-term thinking, and planning, took everyone else by surprise. In an investment world, where manage­ment teams so often obsess over meeting the next quarter's earnings guidance, finding truly long-term-focused businesses has become increas­ingly important. Mobile World, Vietnam's largest electronics and home appliances store, is one such an example. The company is five years into its planned transformation of Vietnam's grocery sector, a story that is only just beginning.
THE CASE FOR VIETNAM
Before we unpack the investment case for Mobile World, it's important to set the scene in which the business operates. Vietnam, a Southeast Asian country with a population of almost 100 million people, is the largest country weighting in our Global Frontiers Strategy, at roughly 30% of Strategy assets.
Vietnam is one of the Tiger Cub economies; these are countries that are expected to follow the high growth trajectory of the original Asian Tigers (Hong Kong, Singapore, Taiwan and South Korea). The Tigers saw rapid economic growth from 1960 to 1990, as governments and the corporate sector promoted industrialisation. Today, Vietnam and the Cubs have adopted an export-driven model. Vietnam has been wildly successful in this regard, with exports growing significantly faster than other emerging markets over the past two decades (see Figure 1). Covid-19 has supercharged this growth, with Vietnam successfully keeping its economy operating while many other markets have been significantly disrupted.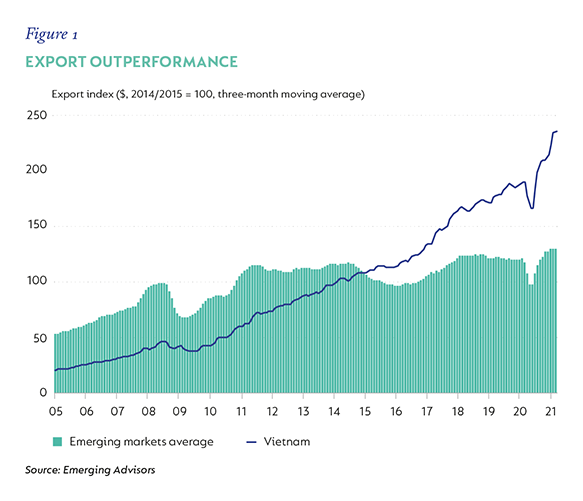 Vietnam's economy also has numerous other characteristics that make it an attractive investment destination, including low urbanisation rates and GDP growth that, prior to the disruptions from the pandemic, had been >5% every year since 1999. The economy grew by 2.9% in 2020. While this marked a meaningful slowdown, 2.9% still meant that Vietnam was one of the 10 fastest growing economies in 2020 (Source: IMF World Economic Outlook). While the broad backdrop is appealing, the country's handling of the Covid-19 pandemic last year was widely hailed as best in class.
In a population of almost 100 million people, there were only 1 465 cases and 35 deaths identified last year (Source: Worldometers). Unfortunately, Vietnam's test and trace excellence did not result in a rapid vaccine rollout due to internal and external constraints. While 24.6% of the world popula­tion has received at least one dose of a vaccine, Vietnam stands at 3.8% (Source: Ourworldindata). Low vaccine rates, coupled with the rise of the more transmissible Delta variant of the corona­virus, have sadly seen this promising situation deteriorate into 2021.
Despite the likelihood of experiencing some disruption in 2021, the long-term economic future of the country looks bright. It is against this backdrop that we finally meet our protagonist, Mobile World.
MOBILE WORLD'S ROOTS
Mobile World's origin story dates back to 2003, when co-founder and current chairman, Mr Nguyen Duc Tai, realised that, as the price of mobile phones fell, the category would see explosive growth. At the time, handsets cost $1 000 and the airtime needed to use them averaged $500 a year. This was simply unaffordable in a country where GDP per capita was only $610 at the time. It was into this environment that, in 2004, Nguyen Duc Tai left his job and launched a mobile phone and accessories retailer, The Gioi Di Dong, or Mobile World. His aim was to take part in the 'inevitable' mobile phone boom.
Fifteen years after launch, he's been proven right. By 2019, Vietnam had 141.2 mobile subscriptions per 100 people* (versus 3.3 in 2003) and Mobile World generated $4.7 billion in sales in 2020. The company had a market share of around 50% in mobile phones and was the undisputed market leader in the category. Nguyen Duc Tai's long-term vision had come true.
Mobile World enjoyed early success through a singular focus on providing the best customer service in the industry while keeping prices competitive. Mobile World applied these learnings to home appliances with the launch of the Điên máy Xanh (electronics and home appliances) in 2010, and the more recent 2015 launch of Bách Hóa Xanh (BHX), the modern wet market. Điên máy Xanh is a story for a sequel, but, at approximately 40% of the consumer electronics market share, it is already a success story. Figures 2 and 3 illustrate this success well.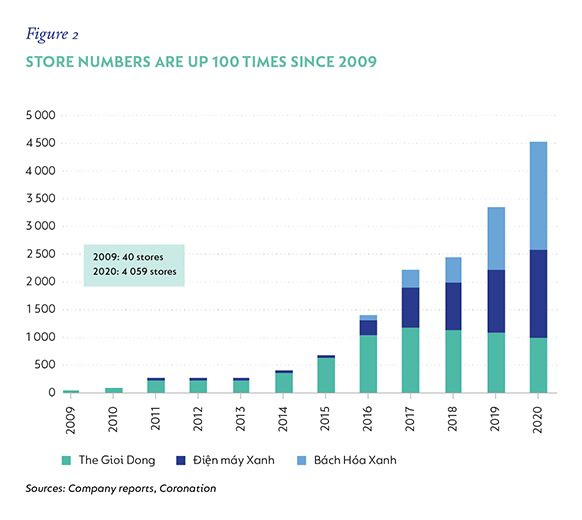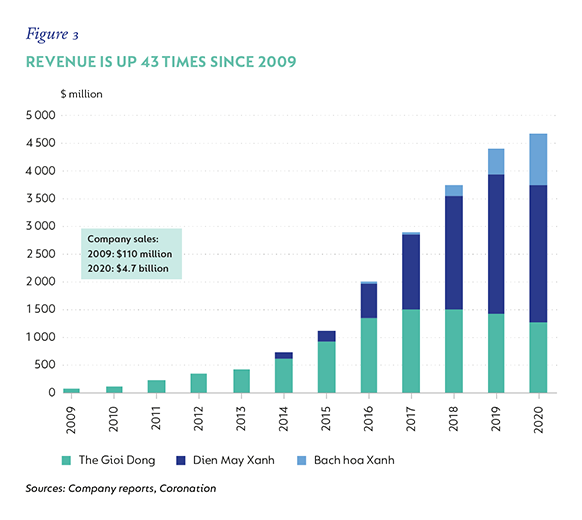 THE MODERN WET MARKET
Wet markets are common across Vietnam and throughout Southeast Asia and derive their name from their water-washed floors. They are market­places that sell fresh meat, fish, produce and other consumer perishables in an informal, tradi­tional and often open-air setting. The average Vietnamese household has a family member visit a nearby wet market almost daily to buy food for the evening meal. There are more than 9 000 wet markets in Vietnam, and they still represent the largest part of the food retail market.
BHX was launched to formalise the informal wet markets. The modern minimarket or small grocery store format focuses on fresh food and daily basic needs. The business strategy from the beginning was to offer quality product, trans­parency around product origin and the friendly Mobile World-style customer service at affordable prices. There is also a focus on opening neighbour-hood stores close to consumers' commuting routes – either walking or scootering – from home and work. By focusing so hard on getting fresh produce sales right, BHX has differen­tiated itself from other modern convenience stores. Many of the traditional wet markets are currently closed as a result of the pandemic. This is massively positive for BHX, which is still able to trade, as the wet market closure drives increased adoption and trial of its stores. Given the superior experience – and increased hygiene levels – many of the people who test out BHX can be expected to continue shopping here, even once Covid-19 restric­tions around wet markets are lifted. Sometimes it's better to be lucky than smart.
BUILDING OUT THE FUTURE
In order to make the new format a success, the company needed to build out a formal supply chain. This has not only included investments in warehouses and the cold chain, but also in farming co-operatives. Farmers benefit from better farming technology, a guaranteed market for their products and better pricing, as they can cut out the middlemen and sell directly to BHX. Further, BHX can guarantee the safety and quality of its fresh produce while ensuring full transparency, with information about the farmer's name, seed type, sowing date and harvest date printed on the label. This is just one area where the company is building out its long-term strategy to ensure security of supply.
Online delivery is another area in which the company is investing. Mobile World has offered 30-minute delivery on its electronics business for more than five years, with online sales contributing 9% to group sales in 2020. The group uses an omni-channel strategy, where their store network supports the online offering. Online grocery sales are less developed, but still made up 3% of BHX's segment sales in the five months to May 2021. Online grocery sales grew 3.9 times year on year over the same period and represent a key growth area for the business. This is another area where adoption leads to repeat consumption, given the superior experience.
These investments are expensive, as is the rollout of new stores. Last year, BHX opened over two stores per day. The business has no need to slow down, as penetration rates in the country remain well below neighbouring peers. The current 1 700-store footprint can easily reach 5 000 by 2026 (see Figure 4) and still leave room for further expansion.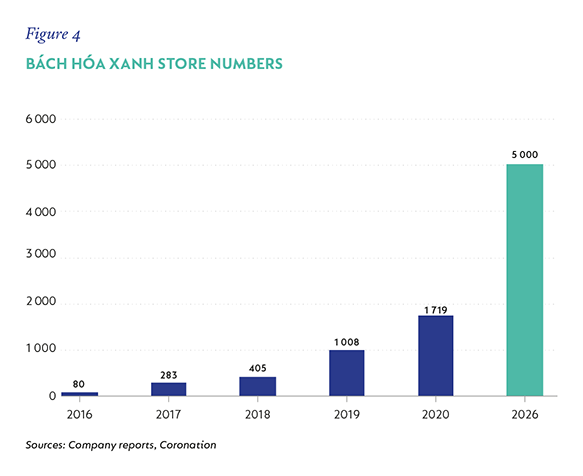 Over the next five years, we expect store numbers to increase three times. As the store base matures, sales can increase more than four times. This would take BHX sales from almost $1 billion in 2020 to $4 billion in 2026 (Figure 5). While this may sound like a lot, CP All in Thailand, a very similar country to Vietnam, generated almost $12 billion in sales from its almost 12 000 CP All format stores last year.
The investments required to grow the online and offline footprints of BHX, have meant that the grocery segment is still loss-making, and is subsidised by the market-leading consumer electronics and home appli­ances formats. In the fullness of time, we expect the grocery business to achieve similar margins to those that we see elsewhere in the world. Rather than detracting from group profitability, BHX will become a strong contributor to group earnings. As this plays out, we expect earnings growth for the company to exceed 20% p.a.
Coronation's experience in investing in emerging markets outside of South Africa for more than a decade has meant that we're able to use our learnings from other retailers like President Chain in Taiwan, Dino Polska in Poland, BIM in Turkey and CP All in Thailand to aid our understanding of the investment case for Mobile World in Vietnam. One could say they all share a similar genre. One area where they differ quite dramatically, however, is valuation. Figure 6 shows the price earnings multiples of a selection of emerging market small format food retailers.
Mobile World (the whole business) trades on the second-lowest forecast price earnings multiple. Only BIM, a superbly run business operating in a less superbly run country, has a lower valuation. Mobile World trades on less than half the valuation of Alfamart and Philippine Seven Corporation. This is very surprising, as fast-growing companies typically have very high price earnings multiples, as the market typically looks into the future and incorporates future earnings growth expectations into current valuations.
A longer-term, more normalised view of the company sees grocery earnings account for half of group earnings in five years' time. The food retail business is, in our view, a higher quality business than consumer electronics. Therefore, in addition to our earnings growth expectations, the shift in the mix of earnings towards food retail also warrants a higher price earnings multiple. This is clearly not yet reflected in the company's valuation.
CONCLUSION
In arguably the most attractive and exciting frontier market in our investment universe, Mobile World stands out as the most compelling investment opportunity. The legacy consumer electronics and home appliances business can continue to generate the cash needed to invest in the future of Vietnamese food retail.
Through the formalisation of Vietnam's many wet markets, Mobile World has the potential to become the country's neighbourhood grocery store. The company's current market capitalisation of $3.5 billion is well below our estimate of its long-term fair value. There will, no doubt, be more twists in this particular journey, but we are more than happy to bide our time and patiently wait for this story to play out. Mobile World is the largest position in the Global Frontiers Strategy.+
---
* Statistica: Vietnam mobile subscription penetration
Disclaimer