Economic views
Where form meets function - investment opportunities in the eyecare industry
Investment opportunities in the eyecare industry
Vertical integration and scale provide an enviable edge
A stable management team is key to unlocking value
Increased efficiencies cut costs and improve margins
Vision correction is a €113 billion market globally, and growing
---
THE GLOBAL MARKET for eyecare and vision correction is large and growing. According to the World Health Organization, at least 2.6 billion people worldwide suffer from myopia (near-sightedness) and a further 1.8 billion from pres­byopia (age-related farsightedness). Due to a variety of environmental and demographic factors, the incidence of these conditions is expected to rise – the number of myopes is projected to grow by 28% over the next decade, and presbyopes by 17%. Asia in particular is seeing rapid deterioration in eyesight – for instance, some studies suggest that over 80% of high-school students in China are nearsighted.
Luckily, these refractive errors can be relatively easily corrected with eyeglasses or contact lenses. Similarly, regular wearing of sunglasses to protect the eyes from UV or blue light can help reduce the risk of developing cataracts or macular degene-ration later in life. Against this backdrop, global eyewear sales is a €113 billion market, growing at mid-range single digits (Figure 1).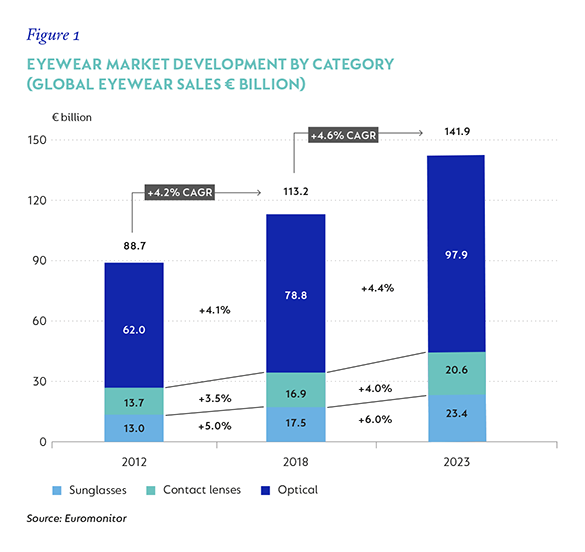 Due to the nature of the product – part medical device, part fashion accessory – success in the eyewear industry relies not just on functionality, but equally on aesthetics, brands and distribu­tion. While online challengers like Warby Parker are trying to disrupt the market, the need to have a physical eye exam, frames f‍itted and lenses aligned to the correct orientation on the wearer's face has seen e-commerce penetration grow much more slowly than in other consumer cate­gories. As a result, industry profitability remains very healthy and is largely controlled by current incumbents.
ESSILORLUXOTTICA – FRENCH FLAIR AND ITALIAN STYLE
A typical consumer may visit a LensCrafters store where an optometrist performs an eye exam and fits a Prada frame with Varilux lenses, and pay for the experience by using insurance benefits provided by EyeMed Vision Care. On her way home, she may pop into a Sunglass Hut store and pick up a new pair of Oakley or Ray-Ban sunglasses. What she may not realise, is that every product and service was provided by one company – EssilorLuxottica.
In a highly fragmented industry, French-Italian EssilorLuxottica is the undisputed 800-pound gorilla. The group was created through the 2018 merger of the global leader in sunglasses and frames, Luxottica, with the global leader in corrective lenses, Essilor. With operations spanning the full value chain (including the manufacturing of frames and lenses, wholesale and retail), EssilorLuxottica holds a more-than 50% market share in sunglasses, 31% in lenses and 23% in frames. As shown in Figure 2, in each category it is at least three times larger than its closest competitor. Its unrivalled scale and verti­cally integrated model afford EssilorLuxottica a number of important and hard-to-replicate advantages over rivals, which we believe will help the group to grow ahead of the overall market.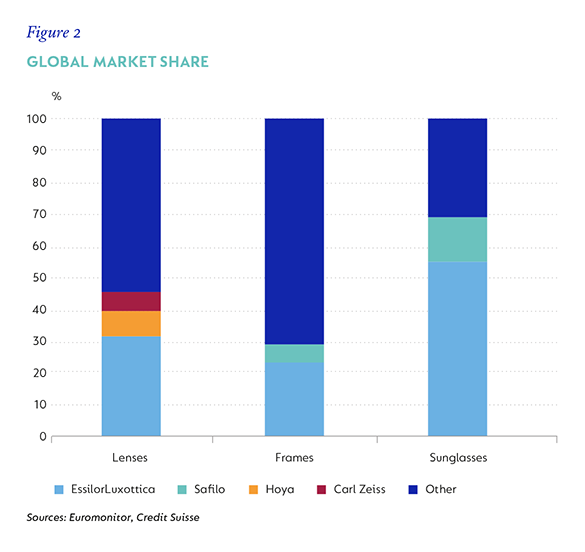 The individual businesses are formidable in their own right. Luxottica has very successfully built the industry's most valuable brands that span frames and sunglasses, including owned brands such as Ray-Ban, Oakley and Vogue, as well as licensed brands such as Prada, Armani and Ralph Lauren. For example, when Luxottica acquired the Ray-Ban brand in 1999, it was seemingly in terminal decline. A pair of poorly constructed Aviators could be bought for $19 from conve­nience stores and gas stations. Luxottica shifted production to Italy, rationalised distribution and repositioned the brand. Today, Aviators sell for $150 – revenue from the brand has grown tenfold under Luxottica's stewardship.
In turn, Essilor has built a dominant position in lens manufacture and finishing, with manufac­turing facilities around the world and control of over 70% of optical laboratories in the US.
Combined, as the only fully vertically integrated player, EssilorLuxottica is uniquely positioned to offer consumers distinctive value propositions. For instance, it is the only major player that can sell a complete pair of branded prescription glasses. In the current model, frames and lenses are typically sold separately (usually consumers choose a frame, which is then sent to an offsite laboratory to have the lenses finished and fitted). An integrated model allows for less inventory to be kept, reduces logistics costs and ensures faster turnaround times, benefiting the consumer.
In addition, by increasing the share of Essilor lenses sold through Luxottica channels and by leveraging Essilor's lens technology in devel­oping prescription sunglasses, the group is in a position to not only capture a greater share of the revenue, but also to grow the pie through product innovation. And by rationalising over­lapping functions, EssilorLuxottica can reduce its cost base and improve margins. These factors should allow EssilorLuxottica to grow ahead of the market over the next few years, despite its size.
While many large mergers are often fraught with risk and unforeseen challenges in integration, the marriage between Essilor and Luxottica has been tumultuous from the start. From the get-go, the entrepreneurial, marketing-oriented culture of Luxottica, led by its charismatic octogenarian founder Leonardo Del Vecchio, clashed with the more corporate culture of Essilor.
The relationship has at times been downright antagonistic, resulting in management depar­tures and a formal transition agreement, by the end of which an external candidate is likely to be appointed CEO. The full benefits of the merger are unlikely to be realised until the legacy businesses are fully integrated.
The uncertainty created by this management power struggle has weighed heavily on the stock price, which has underperformed the market by 15% since the merger. We believe this has created an opportunity to acquire the dominant franchise in an attractive industry at a very compelling valuation.
WHAT ABOUT CONTACT LENSES?
Another vision correction business we follow closely is Alcon. A recent spin-off from Swiss pharmaceutical giant Novartis, Alcon is a global leader in contact lenses, intraocular lenses and ophthalmic surgical equipment.
The contact lens market is effectively a four-player oligopoly, dominated by Johnson & Johnson, Alcon, Cooper and Bausch & Lomb. The market is growing faster than the overall vision-correction market, driven by higher penetration rates and more frequent replacement cycles (particularly as more consumers opt for daily replacement). The consumable nature of the product and low propensity for customers to switch between brands (usually they stick to the one recommended by their optometrist) means contact lenses generate stable, recurring revenues.
As is often the case with spin-off companies, the business was somewhat neglected as part of a bigger pharmaceutical conglomerate. It had noticeably underinvested in new product develop-ment and manufacturing capacity, and as a result had lost market share. However, newly indepen­dent, the business has been re-energised. For instance, with its new PanOptix intraocular lens, a synthetic lens that is used in cataract surgery, Alcon has already captured 60% of the market for multi-focal lenses.
A more profitable product mix driven by new products and a more critical focus on costs as a stand-alone company should allow Alcon to meaningfully expand profit margins going forward and deliver double-digit earnings growth for a number of years.
COVID-19 HAS HURT, BUT IT'S TEMPORARY
Both EssilorLuxottica and Alcon will see disrup­tion to their business from Covid-19. The closure of retail stores around the world in response to the epidemic has resulted in fewer visits to opticians and hence reduced sales.
Similarly, capacity constraints in the global healthcare system (and patients' reluctance to undergo elective procedures) have meant fewer cataract and other ophthalmic surgeries. We see this as a temporary setback in a structurally attractive, long-term story with the underlying demand intact.
At some point in our life, most of us will need corrective glasses, contact lenses or surgery. Most of us will own at least one pair of sunglasses. EssilorLuxottica and Alcon will be there to meet those needs. +
---
Disclaimer