Investment views
Transaction Capital
An attractive new add to our portfolios.
the quick take
Transaction Capital recently acquired WeBuyCars in a highly value-accretive deal
WeBuyCars is disrupting the traditional used-vehicle dealership business model and presents exciting growth prospects in a low-growth economic environment
We forecast strong free cash flow per share growth for Transaction Capital
---
CORONATION HAS BEEN following Transaction Capital (TCP) for years, but it was its recent acqui­sition of WeBuyCars that catapulted TCP into our focus and funds. Our analysis suggested that the WeBuyCars deal was done at an extremely compelling valuation and represented an inflec­tion point in the growth prospects of the TCP group. Shareholders have been handsomely rewarded, with TCP delivering a total shareholder return of 83% for 2021 versus 27% from the FTSE/JSE Capped Shareholder Weighted All Share Index (Capped SWIX). A total return rate since inception of 27.7% also compares very favourably to the 10.2% of the Capped SWIX (Figure 1).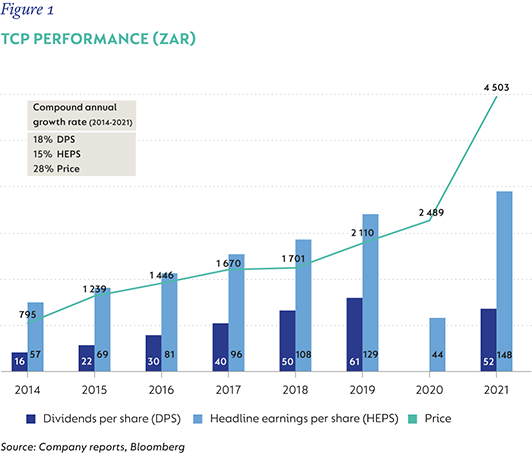 TCP is an innovative, entrepreneurial company focused on increasing levels of trust and sophis­tication in niche industries. It has broad societal relevance in meeting the mobility needs of South Africans, and in the development and empow­erment of emerging consumers and businesses, with the majority of South Africans using either personal vehicles or minibus taxis to commute, and 38% of credit-active consumers having impaired records (NCR Credit Bureau).
This article expands on the exciting prospects we see for WeBuyCars. Prior to the WeBuyCars deal, TCP only had two business verticals, SA Taxi and Transaction Capital Risk Services (TCRS).
SA Taxi is a vertically integrated offering to black-owned SME taxi operators that includes financing, insurance, parts and services for new and used minibus taxi vehicles. As the dominant provider of finance to the industry and with a strategic relationship with the South African National Taxi Council, we think SA Taxi is well poised for further growth.
TCRS mainly collects on non-performing loans, as an agent on behalf of clients or as a principal on acquired books. We think debt collection, although stigmatised, is a growing industry in South Africa (SA) and internationally. While predominantly an SA business, TCRS has established a growing footprint in Australia and started a disciplined expansion into Europe. We think it can continue this growth while servicing those businesses from the low-cost SA fixed cost infrastructure.
We forecast that SA Taxi and TCRS will generate returns on equity (ROE) exceeding 20%, with double-digit earnings growth over the medium term. After the WeBuyCars deal, we think the growth algorithm for the company has changed to be structurally higher. For the 2021 financial year, WeBuyCars constituted 27% of group earnings, and our analysis suggests it could exceed 60% of group earnings in a few years, growing at more than 30% p.a.
WHAT MAKES WEBUYCARS SO COMPELLING?
There are 12.9 million vehicles in the SA vehicle parc, of which 11 million are registered as passenger or light commercial vehicles (eNaTIS). It is illegal to import used vehicles into SA, so the only stock for the parc can come from new vehicle sales. There are 500 000 to 600 000 annual new vehicle sales in SA (National Association of Automobile Manufacturers of SA [NAAMSA]) and roughly 1.2-1.4 million used-vehicle sales (eNaTIS and Lightstone).
WeBuyCars, founded in 2001 by brothers Faan and Dirk van der Walt, started with the idea that the best used-vehicle stock is currently in the hands of consumers. They decided to build a business around consumer-to-business sourcing and focused on massively improving the experience for vehicle sellers. Acquiring cars directly from consumers is still a critical part of the company's competitive advantage. WeBuyCars spends >R150 million annually on marketing through countless social media, billboard, radio and print campaigns to ensure it remains top of mind for consumers when they consider selling a vehicle.
WeBuyCars creates more utility for vehicle sellers (instant quotes, coming to your house or office, doing the paperwork, paying cash immediately, no haggling), and for buyers (wider and deeper selection of models and colours in one place, better experience, online capabilities). Although it competes with dealers, WeBuyCars also adds utility for these entities. Dealers view WeBuyCars as a low-cost, efficient origination channel for vehicles that the dealer can recondition and sell for profit.
Unlike traditional dealerships, WeBuyCars does not have expensive glass-walled showrooms in prime locations. Instead, they leverage scale benefits by using large warehouses closer to industrial areas, giving its supermarkets the capacity to display between 500 and 1 500 vehicles. Large dealer groups also often have vehicle original equipment manufacturer brand affiliation and limited pricing flexibility. In contrast, WeBuyCars has no brand affiliation and can dynamically adjust pricing to optimise stock turn and drive good cash conversion.
SA has one of the broadest selections of vehicle makes and model derivatives relative to market size in the world (NAAMSA), and being able to price these vehicles accurately and quickly is another competitive advantage. WeBuyCars has built a rich database of older used-vehicle prices and uses artificial intelligence to further fine tune its pricing algorithms.
ECOMMERCE DISRUPTION
Online marketplaces like cars.co.za and Autotrader are platforms where traditional dealers consolidate their marketing spend to originate leads for their physical dealerships. The marketplaces carry no stock, and once a lead gets converted, the buying experience requires a visit to a physical dealership. WeBuyCars has already done away with the physical visit requirement on the selling side, and it's now doing the same on the buying side too. The company aims to become the leading online used-vehicle ecommerce platform in SA, and already allows dealers and the public to participate in online vehicle auctions, making up 30% of sales. The next step is allowing the public to buy cars online that are then delivered directly to them, with no dealership visit necessary.
Online sales will drive further efficiencies, where faster stock turns could allow more flexibility to optimise returns. Better prices and more conve­nience should narrow the bid/ask spread, lower the friction to trade a vehicle and lead to an expansion of market demand.
FINANCING
Another source of additional market demand will come from providing bespoke financing solutions for older vehicles. Unlike banks that mostly only finance used vehicles younger than five years, WeBuyCars can underwrite and recover residual values for much older vehicles. This should attract new consumers to the used-vehicle market, while also generating an attractive return for WeBuyCars.
WeBuyCars could also potentially expand interna­tionally, replicating in other markets. Compared to many of the online used-vehicle start-ups that have proliferated recently (Vroom, Shift and Carlotz in the US; Cinch and Cazoo in the UK), WeBuyCars already has a more profitable business model and has reached more scale than most.
Its current sales run rate is 10 000 vehicles per month, with a medium-term target of 15 000. We think the superiority of its business model could easily see WeBuyCars reach 20% market share in SA, implying more than 20 000 vehicles sold per month. We also think that the learnings from finance and insurance in SA Taxi will be a huge benefit to WeBuyCars, so we forecast an improve­ment in unit economics and overall margins as the business's scale increases.
CONCLUSION
In all its businesses, TCP has deep specialisation and expertise, and offers attractive customer value propositions. The durability and profitability of all three verticals have been proven over 20-year operating histories and various crises, and TCP is now in the scaling and replication phase.
The proof is in the numbers, and the existence of the moat and quality of the business are shown in the historically high returns and earnings growth. SA Taxi and TCRS have averaged 25% and 20% ROEs, respectively, and WeBuyCars is generating an ROE of more than 50%. The competitive advantage period for TCP will be significantly longer than we think is being priced in, and TCP will continue to generate high returns. TCP is a leader in all its industries and shows promise of organic growth, either by participating in the growth of the overall market or by growing its market shares.
---