Personal finance
Coronation Global Capital Plus
A mandate designed for conservative global investors
The Quick Take
South African investors who want to invest in a conservative offshore portfolio have a great advantage
This is thanks to local managers often developing more sophisticated solutions in this space
Coronation Global Capital Plus has a proven 14-year track record compared to global peers
And with the support from higher rates, a conservative multi-asset class fund is an even more compelling option
---
South African investors who want to invest in global markets without taking on too much risk have a unique advantage globally. This is thanks to how the South African market has developed over time, meaning local managers are often more sophisticated than their global peers in building solutions for investors with a capital preservation focus.
Honed over nearly three decades, we have successfully ported our skills in constructing multi-asset portfolios for risk-conscious investors into the global space. And given the more recent tailwind of yield returning to income assets in international markets, we believe it may be worth revisiting the merits of investing in a mandate such as Coronation Global Capital Plus.
WELL-CONSIDERED GLOBAL EXPOSURE FOR CONSERVATIVE INVESTORS
Launched in 2009, Coronation Global Capital Plus is our low-risk global balanced fund within our range of international solutions. The Fund represents our best long-term investment view across all global asset classes but is moderated for investors with smaller risk budgets.
The Fund aims to outperform US dollar cash by 3%-4% while preserving capital over any 12-month period. It is suited to more conservative investors with an investment horizon of more than three years.
Coronation Global Capital Plus achieves its dual objective of delivering real returns over the medium term with a capital preservation focus through careful instrument selection and active diversification across all available asset classes. As such, the Fund invests in asset classes that can outperform cash and inflation over time (up to half of the portfolio can be invested in growth assets) but in a manner that doesn't expose the overall portfolio to excessive risk.
FROM HEADWIND TO TAILWIND
For much of Coronation Global Capital Plus' history, its return profile has been artificially depressed by the past decade's very low and extreme interest rate environment. Cash returned between zero and 2% p.a. for the first 13 years of the Fund's existence, with the Fund returning between 4% and 5% p.a. in US dollars.
However, over the past year to end June 2023, investors may have noticed that the Fund return has increased to 7% (in US dollars). This is thanks to yield normalising in the US and, consequently, to more than 70% of the portfolio not invested in equities (see Figure 2). Towards the end of July, the income assets in the portfolio were yielding 6.2%.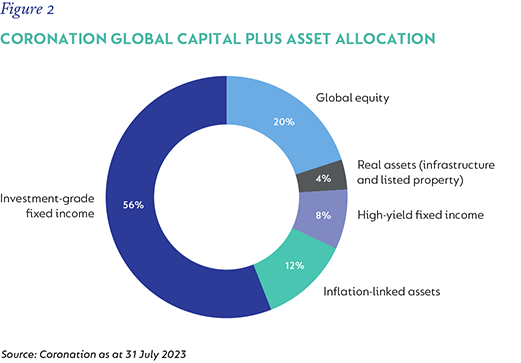 While we know that some yield support may dissipate as policy interest rates start moving down from their respective peaks, it seems very unlikely that we will return to a zero percent environment. Regardless of the yield outcome, Coronation Global Capital Plus continues to target a 3%-4% return premium over cash over the medium term.
STILL FINDING VALUE IN A RANGE OF UNDERVALUED EQUITIES
The Fund's effective equity exposure reduced from over 30% at the start of the year to roughly 20% at end-July 2023 as global equity market prices became fuller at an index level and given the greater opportunity set in the interest-bearing asset classes. However, we believe the narrowness of the equity market rally has amplified stock-picking opportunities. The Fund's equity portfolio comprises a range of diverse and undervalued businesses from high-quality consumer companies like Heineken to quality compounders (which aren't always household names), such as Interactive Brokers.
Together with the attractive opportunities we are finding in global fixed income markets today, we believe the Fund offers a compelling collection of assets suited to the needs of conservative international investors.
PORTING OUR MULTI-ASSET SKILLS INTO THE GLOBAL SPACE
Coupled with the portability of our multi-asset class investing skills into the global space, we have built substantial international expertise and research capabilities over the past 15 years. Today our global investment team comprises 54 skilled individuals covering South African and non-South African income and growth asset classes across developed, emerging and frontier markets.
Doing proprietary research on global opportunities according to the same investment philosophy that has stood us in good stead over multiple decades allows us to blend the best ideas into resilient portfolios matched to our investors' varying needs. As shown in Figure 3, we are deeply encouraged by Coronation Global Capital Plus' outcomes relative to its global peers.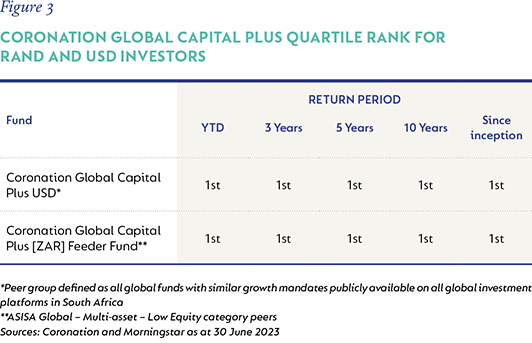 To read more about unlocking offshore investment opportunities with Coronation, click here, or read our Corolab Investment Guide to find an offshore fund suited to your needs.